A final decree is, literally, the last word in a court case. The decree discusses the outcome of the case along with any terms and conditions, and indicates that there is no need for additional litigation. Once signed by the judge and the court clerk, the final decree can be filed, and serves as the record that the case is over and cannot be brought back to court. There may be cases in which people require copies of this decree, in which case they can request them from the clerk of the court.
The context in which many people are familiar with the idea of the final decree is a divorce. Even if people have not experienced divorce, they may have heard people talking about final and interlocutory decrees. In a divorce, it is common for an intermediary decision to be issued first, giving the couple a chance to reconcile. When it is evident that this will not occur, the judge issues a final decree, closing the divorce proceedings and dissolving the marriage.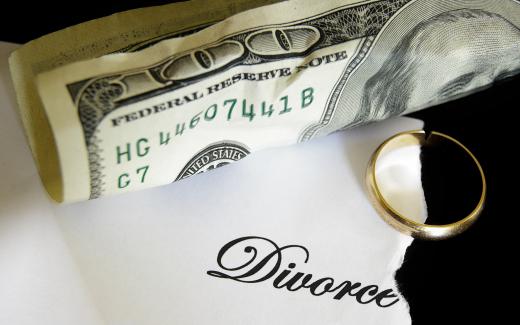 In the case of a divorce final decree, the document discusses issues agreed upon during the proceedings, such as alimony, child custody, and division of assets. This creates a legally binding agreement which the partners are expected to abide by, although they may renegotiate the terms to address changing living circumstances and other issues which can arise. It is important to read the decree carefully to confirm that it accurately represents the agreements made, with the judge usually providing a draft copy for people to review before finalizing the document.
Another case in which a final decree might be used is an adoption decree. The decree finalizes the adoption and may take steps such as authorizing the amendment of a birth certificate to reflect the adoption. In this case, again, the document is used to finalize a legal decision and to provide specific information about agreements attached to the decision. For example, in a closed adoption, the decree would indicate that the adoption is closed, and an additional step might be taken to seal the record so that it is not readily accessible.
During a case, intermediate orders and temporary orders may be issued. The final decree supersedes these. It may reinforce, suspend, or overrule them, depending on the case. People who are not clear about the language in any decree should ask a lawyer for assistance with the document to make sure that they fully understand their rights and obligations.
AS FEATURED ON:
AS FEATURED ON:





By: zimmytws

Alimony and division of assets are addressed in a final divorce decree.

By: Martinan

A divorce final decree officially ends the marriage, but the partners may still need to communicate in order to split shared property or co-parent children.

By: inesbazdar

A final decree may be issued in a child adoption case.

By: Pavel Losevsky

Final decrees may deal with child custody.

By: Tony Northrup

Adultery is a common cause for divorce in many countries.