A surrogate court is a court which oversees legal proceedings related to the settling of an estate, and may also be known as a probate court. Some surrogate courts also handle matters such as adoptions, guardianship, conservatorships, and related matters, although these may be handled by a separate family court. The matters dealt with in a surrogate court vary depending on the policies of the court system in the area where the court is located.
In small communities, all legal matters can generally be handled in the same court. However, in big communities and cities, this becomes impractical, because the court quickly becomes jammed with an excess of cases and it cannot process them in a timely manner. To address this problem, many regional court systems break themselves up into several different types of courts so that legal matters can be split up and handled as quickly as possible.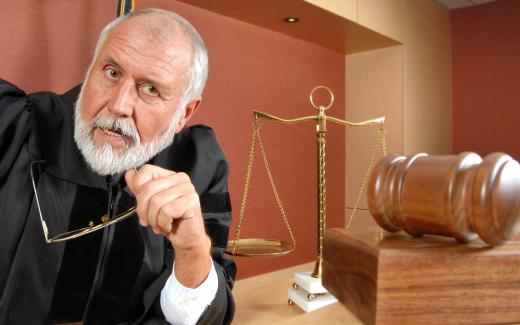 The surrogate court is overseen by a judge who may be known as a surrogate. She or he handles probate for estates both with and without wills, making sure that the property of the decedent is distributed in accordance with the decedent's wishes, the law, and common sense. Sometimes this process is easy, as when an executor is named and the will is updated and clear, and in other cases, probate can drag on as a result of combative family members and unclear clauses in the will.
Essentially, the judge in the surrogate court acts in the best interests of a party who cannot attend court, because he or she is dead or incapable by law. This is why surrogate courts often handle family law matters such as adoption, guardianship for people who are deemed mentally incapable, and conservatorships. The surrogate takes care to ensure that the law is followed and that a person who may be vulnerable is served fairly and well by the legal system.
Decisions made in a surrogate court are just as legally binding as those made in a regular court, and the officers of the court are held to the same standards as conventional courts. People may opt to represent themselves in court or to hire a lawyer, and the court may appoint a lawyer to act on behalf of someone who would otherwise lack representation. For example, a ward of the state will be given a lawyer who is directed to protect the interests of the ward in court and to provide the ward with legal advice and assistance.
AS FEATURED ON:
AS FEATURED ON:





By: Junial Enterprises

The surrogate court is overseen by a judge who may be known as a surrogate.

By: George Wada

People needing to go to surrogate court might need to hire a lawyer.

By: Konstantin Sutyagin

Surrogate courts might deal with seniors who have no family to take care of them.