In Law, what is Picketing?
Picketing is a tactic that is used to express dissatisfaction. This form of protest generally involves a group, although it is technically possible for one person to picket. Protesters will often form a picket line to disrupt traffic into or out of a facility, and picketers may carry signs or shout slogans to attract attention. Whether or not this action is legal depends on the location and the compliance with laws that may regulate it.
People picket when they want to communicate a message or influence a decision. This tactic usually involves a group of picketers congregating outside of a place about which they have complaints. They may also congregate outside of a place where there are people who have the authority to make decisions regarding their concerns, such as a legislator's office.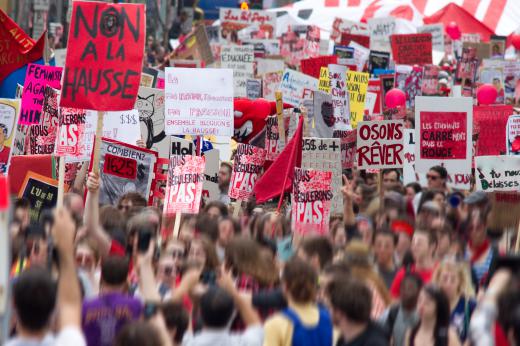 Picketing generally involves an aim to attract attention or to win support of people who do not have the authority to address the picketers' concerns, but who may have an impact on the outcome of the protest. This includes co-workers, passers by, and loyal customers. Picketing is often associated with the dissatisfaction of labor groups, but the tactic is employed in numerous other instances.
In many cases, picketers try to discourage others from using facilities and supporting businesses. They also encourage people to oppose or discontinue certain practices. For example, anti-abortion groups may be found outside of abortion clinics hoping that their presence will dissuade people from entering to seek abortions. In other situations, picketers might assemble outside of a business that is accused of having discriminatory practices against a certain ethnic group.
In many democratic societies, picketing is legal as long as it does not violate certain rules. In the United States, for example, picketing is often protected by the right to assemble, freedom of speech, and the right to protest. Permits are often required for such a protest to be legal, however. Furthermore, certain actions such as blocking highways, walkways, or entrances may be considered illegal.
Although pickets may be permitted, individuals who participate in them or groups that organize them may be held liable for harm that is caused as a result of the activities. Harm can refer to the physical injury of individuals, property damage, or revenue losses. Although trade unions are renowned for organizing pickets, they are often deemed illegal or unauthorized, and as a result the unions may be sued and required to pay penalties.
For example, in the United Kingdom, trade unions can be sued on the grounds that they caused a breach of contracts. It has been successfully argued that employment involves contracts for employees to engage in certain duties at certain times. A picket can result in people not fulfilling their obligations, or breaching their contracts. As a result, their employers suffer harm.
AS FEATURED ON:
AS FEATURED ON:





By: mario beauregard

Picketing is a form of protest.

By: Gramper

The right to picket in the U.S. is granted through the First Amendment of the federal Constitution.

By: Ints Vikmanis

Picketing stems from the right to free speech and freedom of assembly.