What is Police Harassment?
Law enforcement agents are hired to serve the public. It is their duty to enforce the law, but that does not give them the authority to act lawlessly. They must also abide by the regulations outlined by the government and accord people certain rights. When officers act contrary to law and abuse their power, they are often guilty of police harassment.
There are numerous actions that can qualify as police harassment. Police have the authority and the duty to question people suspected of committing crimes. They also have the authority and duty to lawfully look for evidence regarding crimes and to arrest those they believe have committed crimes. There are some types of questioning, searches, and arrests, however, which may be considered harassment.
Questioning may qualify as harassment when it is arbitrary. Sometimes police officers will make a habit of stopping a certain person and demanding answers to random events, even when they do not suspect his involvement. This is often an abuse of power. The same type of situation can arise with search and seizure. An officer may act unlawfully by conducting an unwarranted search and confiscating items not used as part of an investigation.
An officer may have several reasons for harassing a person. For example, he may be trying to coerce the person to admit to his role in a crime or the officer be trying to get information regarding an event that he believed a person witnessed. In any event, it does not make police harassment acceptable.
Many people do not exercise their rights for justice in these situations because they believe the incidents are too minor. Harassment is not always harmless. Unjust police tactics can cause a person mental or physical harm. It can cause a person to lose his job, to be evicted from his place of residence, or to sustain unfair losses of property. When a person is harassed and does nothing about it, he may be acting against the best interests of society because a law officer who uses unjust tactics once is likely to use them again.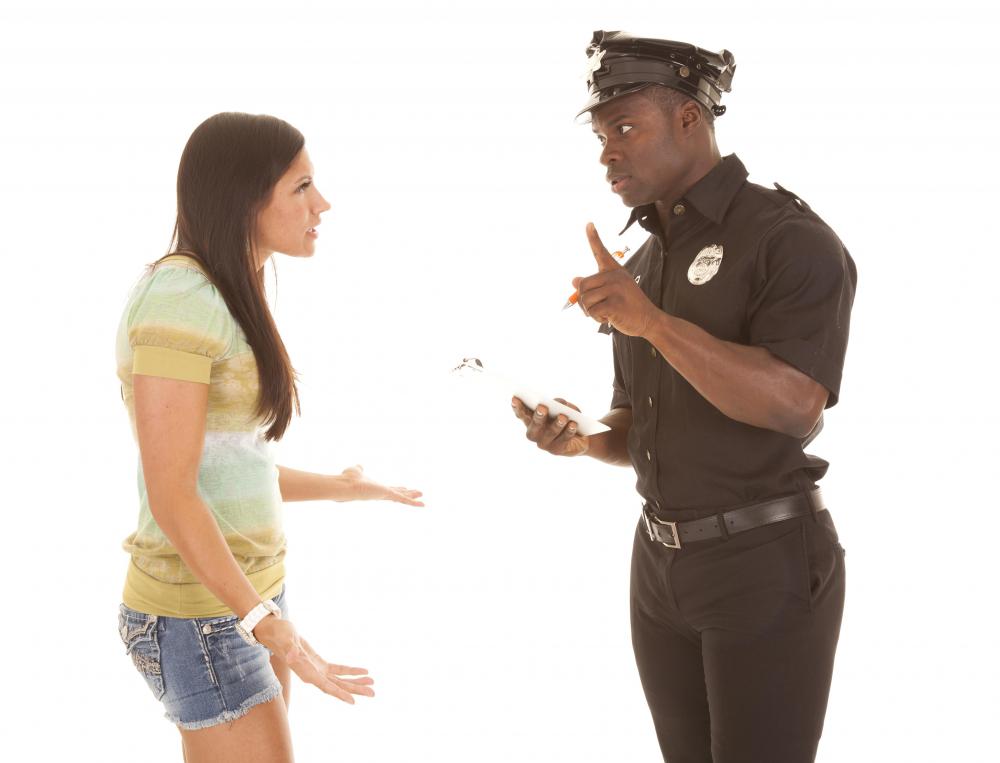 Police harassment is a situation that tends to be best handled by the judicial system. In many instances, police harassment may be found to be a violation of a person's civil rights. It is not wise for a person who is being harassed to try to seek justice on the spot from the officer who is harassing him.
This means that person should not resist or become violent in such situations. If he does, he risks giving his harasser cause to continue to mistreat him or harm him. Instead, such misconduct should be handled in a calm and cooperative manner and the law should be used to reprimand the guilty parties.
Though police officers have the power to stop someone on the road, rules of conduct govern their behavior.

By: Lisa F. Young

There are laws that require police officers to conduct themselves in an appropriate manner.

By: ivanfff

If not handled properly, interrogation can become a form of police harassment.

By: petert2

Certain types of arrests may be considered police harassment.

By: Poulsons Photography

Verbal abuse may be considered a form of police harassment.

By: Robert Hoetink

Law enforcement must be able to show probable cause before an arrest can be made legally.