What does a "Transfer of Title" Mean?
When selling some types of property, such as vehicles and real estate, the seller and buyer may have to complete a transfer of title. This is the legal process by which ownership of a piece of property changes from the seller to the buyer. Once the buyer has the title in his own name, he can take the property and do with it what he wishes. Often, this transfer is handled by a jurisdiction's tax office.
A title is a certificate of ownership, a record that shows who owns the property. A transfer of title is important because it legally shows the property has been transferred to a new owner. After a property is sold, it is a good idea to have the seller transfer the title as soon as possible. Otherwise, the buyer may face fines, and since the seller is still the legal title holder, he or she could be liable for any legal action taken against the property owner.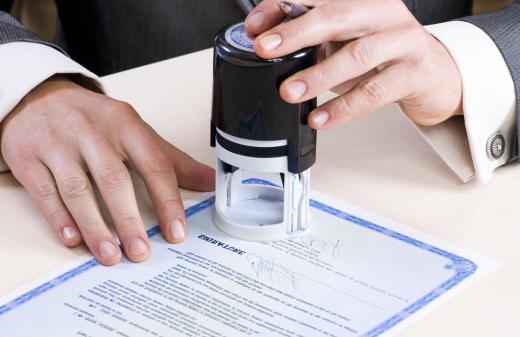 In some areas, a title transfer can only take place under certain circumstances. For instance, titles with liens on them can not usually be transferred. A lien is a document that states that someone else — usually a lender — has held the property as collateral until a loan is paid. Until that loan is paid off, the lender can prevent the property from being sold. In order to sell a property with liens, the lender usually needs be involved in the transaction and a lien release usually has to be signed.
Many people are familiar with a transfer of title when it comes to selling a car. In many areas, when selling a car privately, the parties involved can go to the appropriate motor vehicle office to transfer the title. Often, the transfer may include both parties signing the title and getting it notarized. The document is then sent to the appropriate government department for processing. A dealership, on the other hand, may do all the filing for the buyer and hold onto the title until the car is paid off.
When selling a car, a transfer of title can be of great importance. If the title is not transferred in a timely manner, the seller could find himself in some trouble since, in most cases, the person on the title is responsible for anything that happens involving the car. So, if the buyer gets tickets, breaks the law, or kills someone using the car, the seller could be held responsible if the title transfer hasn't taken place. This is one reason it is so important that a seller transfer the title to the buyer as soon as possible.
AS FEATURED ON:
AS FEATURED ON:





By: Iurii Sokolov

Transfer of title documents sometimes require notarization.

By: Deklofenak

In many cases, a dealership does all of the filing for the buyer.

By: Stephen VanHorn

A "transfer of title" may relate to a piece of property.