A bait car is a vehicle members of law enforcement use to catch car thieves by setting up an appealing target for theft and monitoring it until a criminal takes advantage of the opportunity. This technique is sometimes known as a "honey trap," a reference to the setup of a tempting scenario with the goal of entrapping criminals. Law enforcement agencies may use bait cars in high crime areas as part of a crackdown, or can use them in random sweeps of an area. It is not uncommon for members of the public to be made aware of the bait cars to create a disincentive for theft, as thieves never know when a target is a bait car.
The bait car is usually a fairly ordinary vehicle, sometimes selected from a list of frequently stolen makes and models, with some modifications. Law enforcement officers may be able to control the car remotely, allowing them to do things like shutting off the engine or locking people inside. The car can also have video and audio recording devices to make it possible to collect evidence for court.
Police can simply park the bait car to set up a sting, or may stage a scene to see if any criminals bite. For instance, a female officer in plainclothes might drive the car up to the curb of a club and abandon it with the engine running, or officers could stage a fight where both parties move away from a car, leaving it unlocked with the keys on the ground. Some critics of bait car tactics argue that these scenarios can ensnare good Samaritans who might enter the car with the intent of moving it to a safer location, rather than stealing it.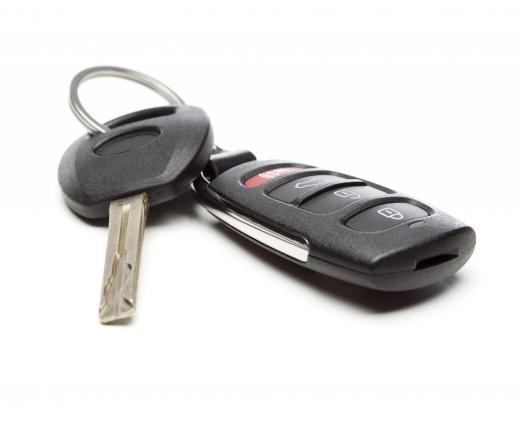 Car theft can be a common problem in some regions and may run in cycles. When police notice an uptick in car thefts, they can use a bait car as part of their policing tactics. In addition to being useful for nabbing car thieves, bait cars can also be part of a sting to identify criminals involving in stripping abandoned vehicles. Police can set a remote alarm so they know to respond when someone comes into contact with the car or they can observe from a distance and move in when someone attempts to steal or strip the car.
Sources for bait cars can vary. Some police departments use seized assets and may sell them later at auction or reuse them for other investigations or plainclothes operations. Sometimes, members of the public donate cars to the police force, and occasionally, car dealers may offer a car for use as bait in operations.
AS FEATURED ON:
AS FEATURED ON:





By: jedi-master

Law enforcement uses bait cars to catch car thieves.

By: Andy Dean

Police might leave keys on the ground or unattended to catch a car thief in the act of stealing.

By: Susan Stevenson

A stakeout may be used in conjunction with a bait car to catch habitual thieves.