What Is a Bond Violation?
A bond violation is an legal infraction that occurs when someone obligated under the bond fails to perform in accordance to the bond. A bail bond violation is one of the most common types of bond violations, but it can also apply to matters of finance as well. Once an obligor's action has caused a violation, the action is likely to be handled based on the contract agreement between the parties involved.
When someone commits a crime, while awaiting trial, or possibly even an appeal, they often have the option of getting out of jail on what is known as a bail bond. That bond requires certain conditions be meant, including often checking in with a probation officer or a bondsman, and staying out of further legal trouble. Those who fail to do so could find they are charged with a bond violation and suffer further legal consequences, including a possible forfeiture of collateral.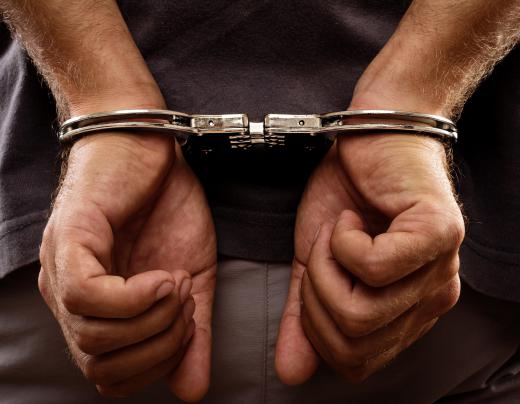 The consequences for such violations include being arrested again and taken back to jail for incarceration. If the bond violation were serious enough, a judge may order no more chances, meaning the individual must stay incarcerated until a trial or other action is completed. In some cases, the judge may re-release the person on the same conditions. In other cases, the judge may impose other penalties or a higher bond amount.
In matters of finance, a bond is a tool used to go into an agreement over debt. The agreement sets forth certain requirements, typically including an interest rate, stipulations on what the money may be used for, and a payment schedule. If an obligor fails to meet the payment schedule, or uses the money for an unauthorized purpose, it may cause a bond violation. Typically, the bond would then go into a default status, and set into motion a chain of legal proceedings.
Once a violation happens, the obligor generally has the option to cure the default caused by the violation for a period of time. This could include making payments current, or paying back money that was used for an unauthorized purpose. The default status could affect the interest rate of the bond, however, or could affect a credit rating in some other way.
Those who have a bond violation may find themselves incapable of getting another bond, or at least a bond with favorable terms. This applies to both matters of debt and criminal bonds. Therefore, it is up to the obligor to completely understand the terms of the bond and what is required before entering into any type of agreement.
AS FEATURED ON:
AS FEATURED ON:





By: jinga80

Being arrested a second time is usually considered a bond violation.

By: Andy Dean

After a bond violation, the judge decides if the violator can be released on another bond.