A clear error is an obvious mistake made in a verdict issued by a trial court. Also known as a plain error, such an error can be grounds for reversing or voiding the trial court's decision, and may trigger a review to determine how the error was made. Demonstrating the presence of a clear error is one technique people can use when appealing a trial verdict to a higher court, although there are other methods of challenging the results of a trial.
When an appellate court reviews a case, it looks both for errors of fact, and errors of law. If a verdict is based on a blatant error of fact or law, it can be deemed a clear error, and the appellate court will overturn the decision. For example, if a judge misinterprets the application of a law and issues a verdict on that basis, it would be a clear error. Likewise, if a fact used to decide a case was clearly erroneous, this would be grounds for overturning the case.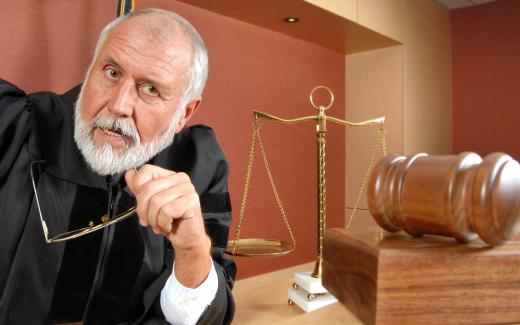 For an appellate court to void, overrule, or reverse a prior legal decision on the grounds of clear error, three different things must be demonstrated. The first is that the error did, in fact, occur. The second is that the error was very obvious and clearly should have been identified. Finally, the people pleading the case in court must show that the error resulted in a prejudicial outcome for the defendant. If a clear error occurred and the outcome of the case would have been the same, this last charge can be difficult to prove.
In some cases, there may be concerns that the error was willfully ignored or that a judge behaved with prejudice in a case. These cases may merit a closer review to investigate for possible legal wrongdoing. A clear error made by a judge in a case about a sensitive matter, for example, could be evidence that the judge was allowing personal opinion to interfere with legal obligations to hear a case fairly and without bias. The judge's history may be reviewed and other cases of a similar nature can be inspected for similar signs of bias.
The appellate court system is designed to provide people with access to justice in the event that something goes wrong with a case. This ensures that judgments are not absolute from the start, giving people an opportunity to contest cases determined in questionable, erroneous, or biased circumstances.
AS FEATURED ON:
AS FEATURED ON:





By: Junial Enterprises

A clear error made by a judge could be evidence that he was allowing his personal opinion to interfere with his legal obligations.

By: Jerry Sliwowski

A clear error is an obvious mistake made in a verdict issued by a trial court.