What is a Construction Lien?
A construction lien is a lien on a property which can be filed by an artisan who has not been paid for his or her work on that property. While the lien is in effect, the title to the property is not clear, and the owner cannot sell or transfer it or can only do so with difficulty. Construction liens are a mechanism which construction professionals can use to ensure payment. If payment is not forthcoming, the property can potentially be seized and sold to satisfy debts.
The origins of security interests in the form of liens are quite old. In 1700s America, for example, the right of artisans who performed improvements on property to be paid was acknowledged and artisans could create a construction lien if they were not paid. Today, many nations have mechanisms in place to allow construction workers to file liens. The laws vary by nation and people considering improvements may want to get detailed information about the law as it applies to contractors in their area.
Generally, a lien must be filed within two months of the completion of the disputed project. A general contractor who has a contract with the property owners can file a lien, but so can subcontractors and suppliers. This means that if a general contractor is paid but fails to pay subcontractors or suppliers, they can use a construction lien to force payment. Property owners should be aware of this and should make sure that they see all bills, and accompanying proof of payment, related to a construction project. If subcontractors and suppliers are not being paid, this can create problems for the property owner.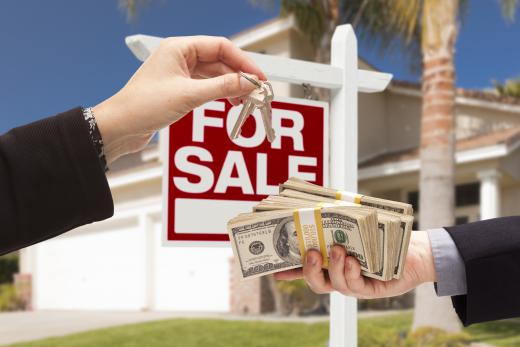 The precise rules about these arrangements vary. Many regions require contractors to provide property owners with information about construction liens at the time that a contract is written, so that people understand when and how liens might be used. People who intend to file a lien must provide notice and if no action is taken, a lien can then be filed. The lien is lifted when the debt is resolved.
Also known as a mechanic's lien, a construction lien can be filed by anyone who is involved in making improvements to a property. This can include people who work offsite fabricating materials used on site as well as personnel involved in construction projects. Since artisans cannot take their work back for nonpayment, liens provide an important mechanism for ensuring that compensation is provided for labor and materials.
AS FEATURED ON:
AS FEATURED ON:





By: Nomad_Soul

Plumbers and other tradesmen can place a construction lien on a property if they are not paid for their work.

By: Andy Dean

If there is a construction lien on a property, it generally cannot be sold because its title is not clear.

By: Sue Ashe

A construction project.