A counterclaim is a claim that is brought against a plaintiff in a lawsuit by a defendant. For example, if a landlord sued a tenant for unpaid rent, the tenant might respond with a counterclaim that suggested that the landlord was actually in the legal wrong, thereby hoping to render his or her claim invalid. They are typically filed as part of a defendant's answer to an original claim, and there is a specific style and format that must be followed for the court to accept them.
Essentially, this type of claim raises issues that a defendant would have brought up in a court case, if he or she had been given the chance to go to court first. As such, it can contain a variety of material, ranging from accusations of fraudulent activity to claims which would pre-empt any attempt at a suit. The goal is to turn the tables on the plaintiff by bringing up more issues in the case and demanding redress.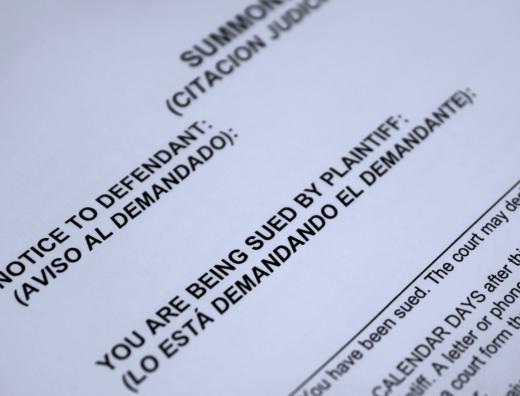 In a compulsory counterclaim, the defendant must file or remain silent on the issue. Not all are compulsory, and the rules vary, depending on the region and the court. As a general rule, they involve only the original parties named in the suit and only the original situation that was brought to court. So, for example, a bank could sue a customer for unpaid fees, and the customer could respond with a counterclaim that stated that the bank had used illegal tactics to recover those fees.
In a permissive counterclaim, a defendant may raise issues, but if he or she doesn't, the right to sue for redress at a future point remains. In the example above, if the defendant was planning on joining a class action lawsuit of bank customers who had been poorly treated, he or she would not be obliged to file a counterclaim, because the suit would include additional parties and the scope of the claim would be larger than the original suit.
When dealing with a lawsuit, it is a good idea to find out about the regional rules governing counterclaims, which is something a lawyer can help with. Individuals don't want to miss out on filing and inadvertently waive their right to file suit in the future, and by the same token, they shouldn't feel hurried into filing if it's legally permissible wait. Lawyers who specialize in such cases can give the best advice on what to do.
AS FEATURED ON:
AS FEATURED ON:





By: Anna

A defendant might file a counterclaim against the plaintiff in a lawsuit.