What Is a Court Stenographer?
A court stenographer is a person who transcribes testimony in courts, meetings, and other proceedings where it is necessary to have a detailed and accurate transcript for future reference. The transcript contains not just a verbatim report of everything said, including interjections and stutters, but also descriptions of gestures and emotional reactions. In addition to serving in the court system, court stenographers can prepare real time transcripts for broadcasts and are present at depositions and any other events where there may be a need for a transcript.
Court stenographers can use a number of tools in their trade. Historically, they used shorthand to generate a manual transcript, going through it after the proceedings to expand the shorthand into a transcript that would be readable by anyone. Court stenographers today may use a steno machine, a special device that allows the stenographer to key in shorthand, generating a record of the case that can be expanded into a transcript later. Some machines automatically transcribe, generating a real-time tape of every keystroke and a transcript, which the stenographer will review later for accuracy.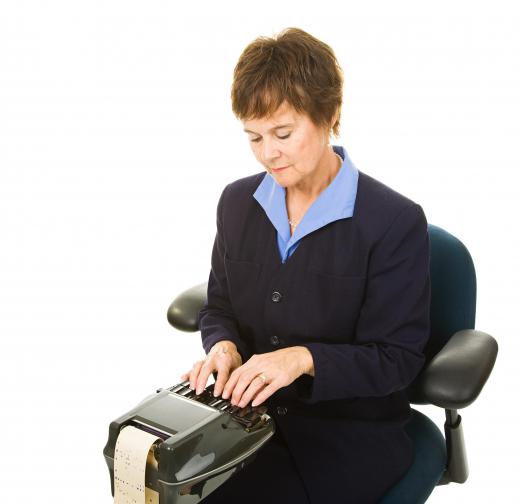 Others may record proceedings and generate a transcript from that, or may use voice mask reporting, where they speak into a muted microphone and a computer transcribes the speech into text. In all cases, stenographers rely on audio and visual recordings of the courtroom to authenticate their transcripts, confirming the accuracy of the information. A second court stenographer may also review the data to make sure it is complete.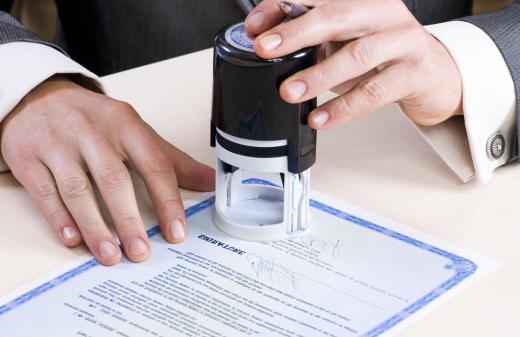 In court, a court stenographer who performs real time reporting can be extremely valuable. The judge and attorneys can ask the stenographer to read back part of the transcript, for example, in the event of a dispute. The real time capacity is also important for captioning live broadcasts, to make sure that deaf and hearing impaired individuals can follow the proceedings easily.
Training for court stenographer work requires attending courses to learn about different stenography techniques and develop practical skills. The work may also require certification as a notary or similar public official, so the stenographer can certify her own transcripts as accurate and complete for legal purposes. Stenographers can be a valuable part of the courtroom team as they are aware of the basic rules of legal procedure and follow the case very closely as part of their work. The judge or attorneys may query the stenographer if they have questions related to the proceedings.
AS FEATURED ON:
AS FEATURED ON:





By: Lisa F. Young

A stenographer is responsible for transcribing courtroom dialogue.

By: Iurii Sokolov

Some court stenographers are also public notaries.