What is a Hardship Affidavit?
A hardship affidavit is a legal declaration providing evidence about a person's financial hardship. This document is usually a necessary part of an application for loan forgiveness or debt renegotiation. Depending on the nature of the application, it may be necessary to use a form furnished with the application, or applicants could prepare a generic statement about financial hardship and submit it along with other supporting information. It is important to make sure the information on the form is accurate and complete.
The hardship affidavit will provide a detailed description of the financial situation. People may experience hardship because of job loss, hours cuts at work, unexpected expenses, and other situations. The form may require the applicant to demonstrate why the hardship is permanent in nature, to document the necessity for making adjustments to the applicant's debt. People may use this document as part of an application to request forbearance on a loan, negotiate new terms, or ask for complete forgiveness.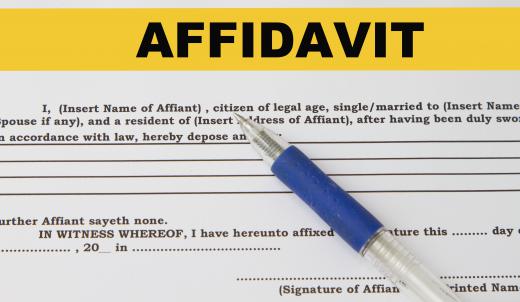 One situation where a hardship affidavit can come up is in the Making Home Affordable program in the United States. After the financial crisis of 2008, the government created this program to help struggling homeowners renegotiate their mortgages and stay in their homes. Applicants must provide a hardship affidavit to show how they cannot meet the existing terms of the mortgage, and representatives will review the document to decide if a homeowner qualifies.
This document is legally binding. If people falsify the information, they can be subject to penalties including fines and jail time. When preparing the form, it is important to pay attention to the directions and to make sure the information is accurate. In the event of an error, people should prepare an amendment to the hardship affidavit immediately and submit it, demonstrating the innocence of the error and their desire to make sure the document is correct.
Information on this form is confidential. The contents cannot be shared without explicit authorization and consent. People reviewing the form need to keep the data confidential, although they may share the form with others in an office as well as people with a legal right to review it. Applicants preparing a hardship affidavit who have concerns about potential uses of the form can ask for a clear discussion of their legal rights and responsibilities to get more information. They can also ask who will be allowed to see the form.
AS FEATURED ON:
AS FEATURED ON:





By: Marzky Ragsac Jr.

Hardship affidavits are legal documents attesting to financial troubles.

By: Monkey Business

A hardship affidavit can help people stay in their homes.