What is a Private Right of Way?
A private right of way is an easement allowing a person or entity to pass through a property in a specific location for transport or other purposes, like utility lines. The classic example is a driveway allowing a person on a neighboring parcel who is not connected to a public road to access the street. Without such a right of way, the parcel would be effectively landlocked and impossible to reach by foot or vehicle.
This differs from a public easement, where a person allows members of the general public to pass over a property, as in cases where people allow beach or park access through private land. Access to the private right of way is limited to parties who need access. Utilities can request one to bring lines over or under property, making it easier to deliver utility services. Likewise, people may set it up to allow for bringing livestock through a property, or in some other special circumstances.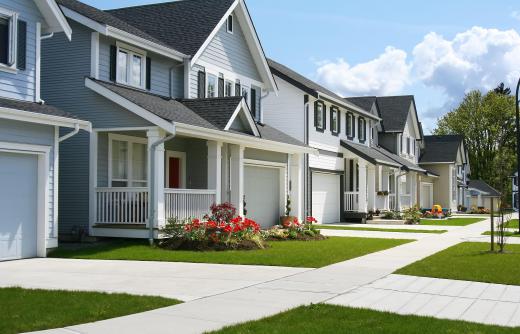 When a private right of way is set up, the property owner may be compensated for the trouble, and the parties work out the terms, including the precise location and other matters. The property owner can use the right of way as long as his use does not interrupt that of the beneficiary. Thus, people are welcome to garden under utility poles, or to use a private driveway to access part of their property, but they cannot do something like installing a swimming pool on top of buried gas lines.
The easement is permanently attached to the land. When the property owner sells, the private right of way goes with the sale, and the new owner must honor its terms. Legally, people must disclose the existence of easements and other attachments to a deed at the time of sale, so people can decide if they want to move forward with the sale. Some people may not want to purchase property with a private right of way, and can choose to seek real estate elsewhere.
Maintenance of the easement is the responsibility of the person receiving the benefit. The property owner cannot do anything to interfere with access to the right of way such as adding fencing or gates, changing property drainage to flood the area, and so forth. If a dispute over the land arises, the parties can go to court to discuss the matter if they cannot reach an amicable resolution.
AS FEATURED ON:
AS FEATURED ON:





By: Barbara Helgason

A private right of way may be granted to install utility lines on a property.

By: Greg Pickens

A private right of way easement may be necessary for work to be done on utility lines.

By: david hughes

Property owners cannot regrade the soil or build structures on or near a drainage easement because it could impede the free flow of water over the property.