What Is a School Confidentiality Policy?
A school confidentiality policy is a written document that outlines a school's plan to protect student information. Furthermore, these documents attempt to define boundaries that identify what type of information can be shared and what types of individuals are authorized to view it. Schools put these documents in place to help ensure that teachers, administrative staff, and all other faculty understand their responsibilities. Having this policy in place may also help schools become better prepared and better capable of meeting legal and professional standards that may apply.
Part of keeping student data confidential is defining who sees these records and under what circumstances. As part of their daily jobs, administrative staff will likely need to create and maintain personal records for each student. These individuals will typically have access to everything from social security numbers to date of births and grades. To protect this data, a school confidentiality policy might define how the school keeps this information safe and secure. For instance, filed records are likely to be kept in a locked area inaccessible to anyone but staff, while data stored on a computer are liable to be password protected and encrypted.
Often, schools will specify different levels of confidentiality. For example, a school nurse will normally have access to immunization records, medication logs, and detailed medical records on students. Teachers, on the other hand, may only have access to medical-related information if a student they teach has medical needs that need to be monitored or addressed during school hours. Alternatively, a parent will normally have full access to see any school records held for his or her own child. Parents do not, however, have any rights to see other students' information.
Another issue regularly tackled in a school confidentiality policy is establishing trust. To create an environment where students feel comfortable addressing a problem with a member of staff, policies usually brief educators on how to handle personal information that the student chooses to disclose. For instance, if a student requests contraception or sexual health advice from a nurse, the student may have the right to keep this information private from parents in some jurisdictions.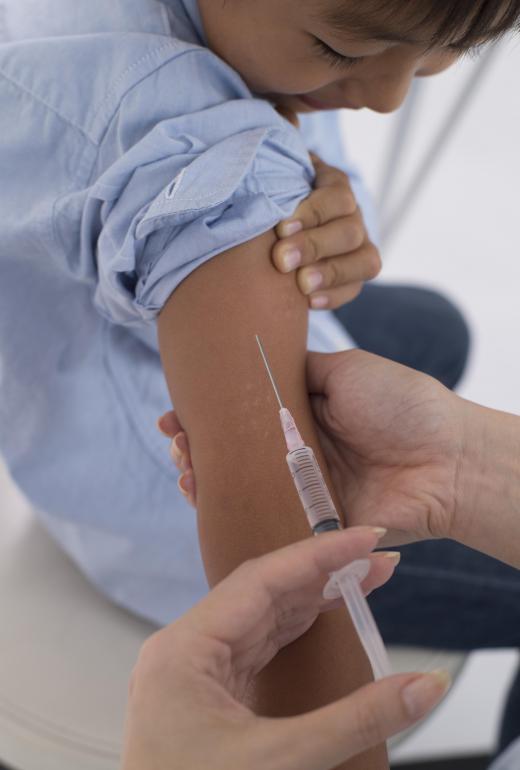 Student confidentiality policies are not meant to provide complete confidentiality, however. Instead, they provide a clear set of guidelines that lets faculty know how to protect student information and in what situations this information needs to be shared with others. Generally, a school confidentiality policy will not be broken unless not doing so could put a child's safety or welfare in danger. If a student displayed signs of physical abuse or neglect, for example, teachers are commonly required to report this information to the proper school authorities. In some cases, they would also be required to inform the appropriate local authorities such as child protective services.
School confidentiality polices create a shared consistent vision that applies to everyone. This consistency helps parents, teachers, and caregivers understand what to expect in various situations and provides reassurances that student information is being handled appropriately. The term school confidentiality policy is more likely to be encountered in the United Kingdom educational system; most jurisdictions, however, have laws and policies in place that protect student confidentiality. Depending on the jurisdiction, some schools may not have a separate confidentiality policy but might choose to incorporate such guidelines into existing policies instead. Generally, these policies tend to apply at all levels of education, including preschool and university instruction.
What Are a Parent's Rights Under a School Confidentiality Policy?
According to the Family Educational Rights and Privacy Act (FERPA), parents have specific rights in regard to their children's education records. When those students reach 18 years of age, or when they start attending a post-secondary school, the rights transfer to them. In the law, they are referred to as "eligible students." FERPA applies to any school that is receiving funds from programs associated with the United States Department of Education.
The first section of FERPA states that parents (or, when applicable, eligible students) have the right to receive the records that the school keeps for the student. However, this is typically done at the school. The school does not need to provide copies of the records unless there is an extenuating circumstance. If the school does provide copies of the records, it is allowed to charge a fee for the copies.
If, after reviewing the records, the parents or eligible students feel that they are incorrect or somehow misleading, they have the right to request that the school make corrections. If the school fails to make corrections, the parents or student can request a formal hearing. If a formal hearing doesn't result in changes to the record, the parents or student can place a statement in the record providing their view of the situation.
Can a School Share a Student's Records With Anyone Outside of the Parent or Student?
While a school can share information with outside parties, it is typically required to have written permission to do so first. However, there are some situations in which the school can provide information without having written permission first.
School officials who have a legitimate interest
New schools if the student is transferring
Officials who are evaluating the student's abilities
Parties affiliated with financial aid requests
Accrediting organizations
Judges or other authorities
During health or safety emergencies
What Is Informed Consent in Relation to FERPA?
Informed consent is necessary if the school wishes to provide a student's educational records to a third party that is not otherwise covered by the law. The school must tell the parents or the eligible student who is requesting the student's educational records, why they are requesting them, and how they plan to use them. Parents or eligible students typically have the option of agreeing to provide the information or declining to provide it and should be able to make that decision without fear of penalty. If the parent or eligible student gives informed consent for a specific use of the educational records, the school cannot provide them to any other third party for any other reason without receiving additional written informed consent.
What Other Information Can a School Share?
Schools that print student directories can disclose certain information without the parents' or student's consent. Typically, this includes the student's name, address, and telephone number. Schools can also disclose birthdays, attendance dates, and whether the student has any honors or awards. However, the school must first tell the students and parents about the intent to publish a directory and provide parents or students with enough time to request that their information not be included in the directory.
Do Schools Need To Alert Parents or Students To the School Confidentiality Policy?
Yes, schools do need to notify parents and eligible students about their rights under FERPA school confidentiality policies. The way that the school does that is left to its own discretion and may include a PTA bulletin, letter sent home from the school, page in the student handbook, or a number of other methods of communication.
AS FEATURED ON:
AS FEATURED ON:





By: Dusan Kostic

If a student displays signs of physical abuse, teachers are commonly required to report this information to the proper school authorities.

By: mariazin

Teachers are required to report signs of student neglect to proper school authorities.

By: yuuuu

Only certain personnel at a school may have access to a child's immunization records.

By: Wrangler

School confidentiality policies prevent teachers from telling others about a student's academic standing.

By: dmitrimaruta

A school nurse is expected to uphold the strictest confidentiality standards.