What is an Affidavit of Deed?
An affidavit of deed is a sworn legal statement attesting to a matter relating to a deed of ownership, typically for property. Such documents are filed with agencies responsible for maintaining records about deeds for the purpose of keeping these records accurate and up to date. Blank affidavit forms people can fill out for different applications are available, and these documents can also be drafted by an attorney for specific circumstances.
A common example of an affidavit of deed is an affidavit of correction, a legal document correcting an error on a deed, such as a misspelling or a transposition of numbers. This document provides information about the error and the correct information, and is signed to indicate the truth of the statement. Another example is an affidavit of survivorship, a legal document prepared by or on behalf of the surviving member of group of people who hold property jointly, used to transfer the deed into the survivor's name after the other members of the partnership die.
An affidavit of deed in lieu of foreclosure is another example, where a property owner voluntarily surrenders a deed to a lienholder to avoid going through foreclosure proceedings. People may be given cash bonuses or other benefits in exchange for doing this. The affidavit of deed in lieu of foreclosure documents the circumstances of the transfer and is used to transfer the deed to the lienholder and clear the title.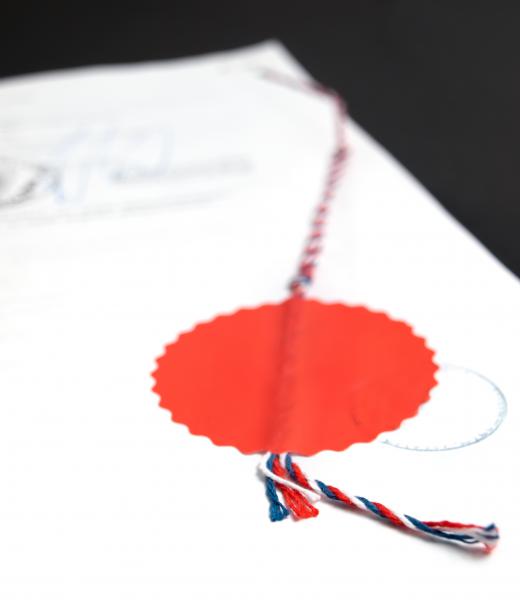 The document must include detailed information about the property, ideally including the parcel number, address, and other data to clearly identify the property. Specific language must be used to convey factual information in affidavits, one reason why people often prefer to use legal forms rather than writing their own. If a form is being drafted, it is advisable to retain an attorney to write out the affidavit, or to have the document reviewed by a lawyer before it is filed to confirm it is accurate and correct.
People are liable for mistakes made in an affidavit if the errors are made knowingly, as it is a sworn legal document. If people recognize a mistake in affidavits they have filed, they should file corrections as soon as the error is noted to clarify the information, noting that the mistake was made in innocence. If an error on an affidavit of deed is identified and not corrected, it may be considered grounds for legal liability, as though it was made on purpose.
AS FEATURED ON:
AS FEATURED ON:





By: Marzky Ragsac Jr.

An affidavit of deed is a legally bound statement concerning the ownership of property.

By: Sinisa Botas

An affidavit of deed attests to legal ownership of a property.

By: Kurhan

An affidavit of survivorship is typically used when a couple buys a piece of real estate together.

By: Andy Dean

An affidavit of deed may be used in lieu of foreclosure.

By: picsfive

When preparing an affidavit, a person typically writes down all of the relevant facts concerning the legal matter.