What is Inadmissible Evidence?
In order to ensure that each party to a court case is given a fair trial, a judge strives to make certain that any evidence presented in a court of law or administrative proceeding is reliable, material, and relevant to the issues at hand. Testimony, documents, and exhibits that do not meet this criteria can be declared inadmissible evidence by a judge. Inadmissible evidence is oral or tangible evidence that cannot be submitted to a judge or jury in a court case because it runs afoul of certain procedural rules.
A judge typically has broad discretion in determining whether evidence is admissible or not. Generally, he makes a decision when one of the parties to a case presents evidence at trial, or prior to trial, and the other side objects to its admissibility. Once the objection has been raised, the judge usually listens to each party's argument on whether the evidence should be declared admissible. If the judge finds that the evidence is inadmissible, the judge or jury cannot consider it when rendering a verdict in the case. A judge's decision can be appealed, although appellate courts often give great deference to a lower court's decision.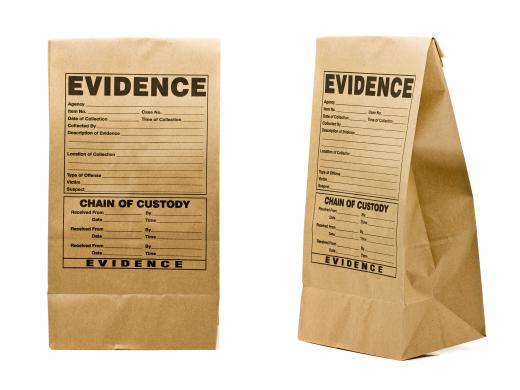 Inadmissible evidence usually lacks reliability, which means that it is not trustworthy. Demonstrating the reliability of evidence typically requires laying a foundation. For instance, if an expert witness has been called in a case, a lawyer may ask him questions about his background, education, and training in the area he is testifying about before asking him to give an opinion. This background testimony helps establish that the expert's opinion is trustworthy.
If testimony, exhibits, or documents are found to be immaterial to a case, they may be deemed inadmissible evidence. In order for evidence to be material, it must be found necessary to prove a key element of the case. For example, if a lawyer attempts to show that a theft victim was diagnosed with cancer in order to glean sympathy from the jury, a judge may find such evidence immaterial to the case at hand and therefore inadmissible.
Inadmissible evidence generally lacks relevance. That is, it does not help prove or disprove any of the issues relating to the case. Sometimes a judge will exclude evidence that is relevant for other reasons. For instance, a judge may bar evidence that may be confusing to a jury, duplicative, or unfairly prejudicial to one of the parties.
AS FEATURED ON:
AS FEATURED ON:





By: Shawn Hempel

Inadmissible evidence cannot be presented during a trial.

By: Stephen Coburn

Testimony that is immaterial to a case might be considered inadmissible evidence.

By: apops

A judge may determine a document to be inadmissible evidence if the document is irrelevant or unreliable.

By: kilukilu

Evidence that is improperly handled at a crime scene may be inadmissible.

By: Leah-Anne Thompson

Inadmissible evidence generally lacks relevance.