Larceny is a crime in which someone unlawfully takes something which belongs to someone else, with the intent to permanently deprive the owner of his or her rightful possession. It is also known as "theft," and depending on the region. The penalties for this crime vary, depending on what is stolen and regional laws.
As a general rule, most legal systems distinguish between petty and grand larceny on the basis of the value of the item stolen. For example, stealing a car would be a case of grand larceny, as cars are generally quite valuable, while stealing someone's kitchen table would be petty larceny. In both cases, the thief intends to benefit in some way from the object stolen, while the person to whom the object belonged suffers as a result of its absence.
There are also several different kinds of this crime. For example, in a case of larceny by trick, someone tricks someone into giving up an item which belongs to them; for example, someone could pretend to be a law enforcement officer and steal something from a victim by saying that the item was being confiscated. In the case of larceny by false pretenses, someone might do something like selling a stolen car to someone else while pretending to be the car's owner. In another type called larceny by false promise, someone takes something with the understanding that a service will be given in return and never renders the service, as might be the case with someone who agrees to sell an antique for a small fee and turn the profit over to the antique's owner, but then simply pockets the funds from the sale.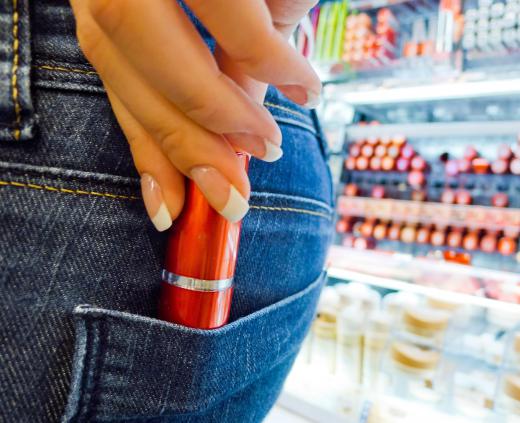 One of the defining characteristics of this crime is that it is nonviolent. If someone breaks into a car and steals it, this is larceny. If someone happens to be in the car at the time, it becomes a carjacking. The absence of violence makes this crime less heavily punished than crimes like robbery, which involve active violence against people or property.
AS FEATURED ON:
AS FEATURED ON:





By: Paolese

Legal systems typically differentiate between grand larceny, which might involve stealing a car, and petty larceny, which is the theft of something of lesser value.

By: Gina Sanders

Shoplifting is typically considered petty larceny.

By: Monkey Business

Unlike robbery, larceny does not involve violence or threats of violence.

By: oneinchpunch

Anyone accused of automobile theft who threatened or harmed the vehicle's owner or passengers will nearly always face felony charges.

By: mario beauregard

Larceny is a common crime among large crowds.