What Is Maritime Law Enforcement?
Admiralty or maritime law is a body of law concerning interstate or international shipping and navigation by seafaring vessels. Maritime law enforcement encompasses both the act of upholding maritime laws, as well as the agencies charged with such duties. Each country has maritime laws and law enforcement agencies charged with upholding the admiralty laws of that country, as well as assisting with matters of international maritime law. Typically, maritime law enforcement does not control matters outside the bounds of interstate commerce. Instead, local law enforcement, departments of parks or recreation, and similar agencies are responsible for enforcing domestic watercraft and crews, leaving maritime law enforcement agencies to manage compliance for seafaring vessels.
As an act, maritime law enforcement includes the active policing of waterways, the enforcing of tariffs or other trade laws, protecting from piracy, and ensuring safe navigation. Seldom do these law enforcement agencies police domestic waterways, unless they are navigated by vessels engaged in interstate commerce. In terms of which laws are in force for a particular vessel or body of water, each vessel flies a flag representative of its home country. The vessel is subject to the admiralty laws of its home country, with a few exceptions regarding international waters and international conventions.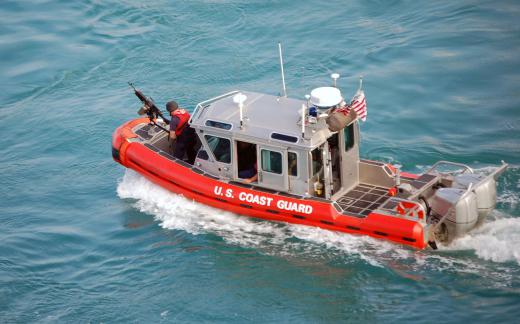 In matters of international maritime law, a variety of conventions and trade agreements call for enforcement activities and adherence to general rules by all participating countries. For example the Rotterdam Rules apply to the carriage of goods across international waters in France, Spain, and more than 20 other United Nations member states. Officially, the Rotterdam Rules refer to the "United Nations Convention on Contracts for the International Carriage of Goods Wholly or Partly by Sea." Countries signing on to abide by the Rotterdam Rules agree to abide by the same standards of liability for navigation and ship management. Should an accident occur at sea under Rotterdam Rules, participating maritime law enforcement agencies must follow guidelines established by the convention for any ship flying the colors of a participating country.
Aside from the act of enforcing maritime law, maritime law enforcement also refers to the agencies responsible for upholding admiralty law. Some examples of maritime law enforcement agencies include the US Coast Guard, Her Majesty's Coastguard as part of the Maritime and Coastguard Agency of the United Kingdom, as well as the Corps of the Port Captaincies Coastguard of Italy. Agencies charged with enforcing domestic admiralty or maritime law must often enforce international maritime law, based on each country's participation in various international conventions.
AS FEATURED ON:
AS FEATURED ON:





By: Wimbledon

The U.S. Coast Guard uses Defender class boats for both harbor patrol and boarding missions.

By: gwen0

Maritime law enforcement concerns international shipping vessels as well as private seafaring vessels.

The Coast Guard acts as a type of maritime law enforcement agency.