The Latin phrase "ratio decidendi," often translated as "the reason for the decision," is used in the legal community to refer to the rationale behind a court decision. Every case has one, a basis that the court used for ruling in the way that it did. Sometimes it is evident, and at other times, a court may need to explain it, as when a court is setting a precedent and therefore cannot rely on previously established rationales that formed the basis for other legal decisions.
When looking at a court decision, the ratio decidendi stands out as the legal grounds upon which the decision is meant to stand. It is legally binding, unlike comments made in relation to the case that may be relevant or interesting but are not compelling from a legal stance. A passing comment of this nature is known as an orbiter dicta. If a court case is challenged, the challenger must be able to identify the reason for the decision and show the way in which it is erroneous.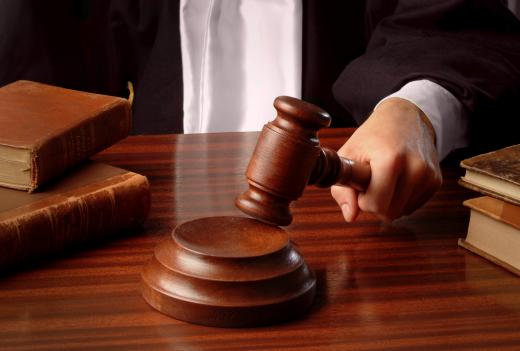 Sometimes, there is no clear rule in the law that would allow a judge to make a decisive ruling in a case. In these situations, judges incorporate social, moral, and political considerations when they weigh a case to arrive at a decision. In many legal systems, people can see shifts in the approach to the law in response to changing cultural norms. For example, the United States Supreme Court once believed that "separate but equal" accommodations were constitutional, but later changed its stance and argued that such accommodations were in fact a form of discrimination.
In important legal cases, the judge usually takes time to write an opinion that accompanies the ruling. The opinion delves into the ratio decidendi, explaining how the judge arrived at a decision in the case and providing supporting documentation in the form of other legal cases and laws, if they are available. Once published, the opinion can be used in other court cases and becomes a part of case law if it is a landmark case that sets a precedent.
It can sometimes be difficult to identify the ratio decidendi in an opinion, since judges rarely conveniently flag it. When evaluating an opinion, it may be helpful to break down the components of the opinion and to look for the compelling statements which directly speak to how the judge ruled and why the judge reached a given ruling.
AS FEATURED ON:
AS FEATURED ON:





By: nicolasjoseschirado

Ratio decidendi is a phrase used to refer to the reasoning behind a court decision.

By: TimeHacker

Ratio decidendi is the legal rationale behind a court decision.