What Is the Difference between Common Law and Case Law?
Common law and case law have essentially the same meaning in many legal systems, including that of the United States. The body of common law is made up of various case law from different court systems throughout the country. This case law is legally enforceable unless a higher court overrules it or the legislature creates a law that supersedes it.
In the United States, the law is comprised of the Constitution, statutes, and case law. The Constitution, both at the federal and state levels, is considered the "supreme law of the land." It created the separation of powers and vested certain authority in the legislative branch and certain authority in the courts.
The federal and state government are each permitted to make laws on the areas that the Constitution delegated appropriate to them. These laws are called bills or statutes and are published in code books. As long as these government-made laws do not violate Constitutional rights or parameters, the laws are valid.
Statutes and the Constitution, however, are all subject to interpretation as to their meaning. Furthermore, these types of law cannot possibly address every potential legal situation or question that arises. This is where common law — or case law — comes into play.
Case law is law made by judges that interprets or refines statutes and constitutions. Case law, in other words, applies general laws to specific cases, thereby refining the definition of the laws in the process. If no specific statute or Constitutional rule is on point, judges must also determine which related laws and rules they believe the law to be based upon.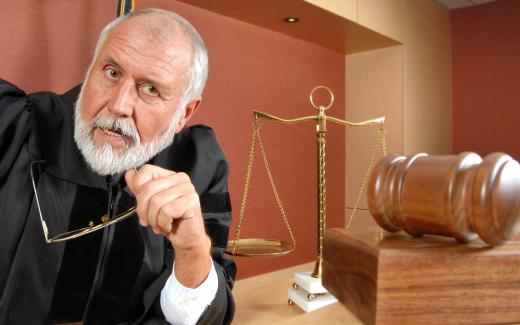 Once a judge makes case law, or interprets an existing law, that case law and interpretation is binding on all courts at the same level or lower within the jurisdiction. The case law is binding under the doctrine of stare decisis, which is derived from a Latin phrase that means "stand by and adhere to decisions and not disturb what is settled."
Lawyers and individuals can turn to case law to determine how a law will apply, and can use that case law to govern their behavior. All courts within the jurisdiction thus must apply that case law. Only a court at the same level, or a higher court, can overrule existing precedent or case law.
Under the common law system, only case law within the jurisdiction is binding. This means that a California judge does not have to listen to what a New York judge says about the law. A California judge must, however, listen to what other California judges say about the law, unless they are a higher court and can overrule the existing common law rule.
What Are Examples of Common Law and Case Law? 
Common law vs case law is an oft-misunderstood topic. These terms actually refer to the same legal systems within most governmental bodies including the United States. In countries where common law dominates, most legal decisions will be made based on case law. In civil law countries, legal rulings may look dramatically different. Learn more below about what common law is, how it is different from civil law, and in which situations a person may need to pay attention to one or the other.
What Is Common (or Case) Law?
Around the world, countries' legal systems are split into two types of law: case and civil. Common law, or case law, refers to the laws that are set by judges. These laws have more wiggle room in interpretation, are more arbitrary, and within these systems, the judges may have more power to interpret the law as they see fit.
Case law may also feature in some civil law countries as judges frequently bring their own interpretations to events, crimes, and trials. Predominately common law countries include the United States, England, and India.
What Is Civil Law?
When most people speak of laws or "the law" as an entity, they are probably referring to civil laws. In contrast to common or case laws, civil laws come from a country or region's constitution or another type of legal document or code. The advantages of civil law are that these laws are typically clearer, more binding, and simpler to understand. Because they do not change as much as common law and are not as arbitrary (in other words, they are not decided upon by judges), they are more predictable.
The disadvantage of civil law in practice is that there is sometimes little wiggle room for judges to offer their judgment. This law also may not work well when the law itself does not apply well to the situation that is being determined in court. Countries that use civil law for the majority of their practice include Japan, China, Germany, and France. Interestingly, Louisiana follows many more civil law tenets than other states due to its French heritage.
Similarities Between Common Law and Civil Law
You may be thinking that one system of law works better than the other, or you might even have a preference based on the country you live in. Most countries actually use a combination of these features even though they may subscribe to common or civil law in general. There are three main similarities between these two systems of law.
1. Both Systems Look to the Law as the Ultimate Judge
Without any type of law, anarchy would prevail. These laws, whether set by a judge's ruling in a specific case or held as an absolute, are our guidelines for living. Often, they encourage good behavior and prevent society from falling into disarray. Common law and civil law proponents both like to remind the public that the authority of the law, whichever type it may be, is a positive force in modern society.
2. Both Systems Value the Hard Work of Lawyers
Regardless of the type of law a country practices, lawyers still have large roles to play in the proceedings. In civil law countries, they are more like researchers or investigators who examine facts and question witnesses. In common law countries, they take a more active role in questioning the witnesses themselves in front of a jury and a judge.
3. Both Systems May Be Used on the Same Cases
Some countries are very strict in how they interpret the law — but in others, such as the United States, there is room for both civil and common law to shine. Civil law is often used when contracts are involved and the case involves marriage, medical malpractice, or business fraud. Common law may fill the gaps in these cases if there is a trial for a specific person who harmed another person or committed wrongdoing. In other words, the judge may decide the fate of someone who murdered another person (using common law) in the midst of determining the fate of the companies involved in a white-collar crime case (using civil law).
Does Common Law Override Case Law?
As these two terms usually refer to the same legal rules (laws that are ultimately decided by judges), no, common law does not override case law. Cases are used to determine precedents for common law. Civil law can and does, however, override common or case law if the country mostly uses civil law to make judicial decisions.
AS FEATURED ON:
AS FEATURED ON:





By: Bastos

In the legal system of the United States, common law and case law have the same meaning.

By: milosluz

The Constitution is considered the "supreme law of the land."

By: Junial Enterprises

Case law is law made by judges that interprets or refines statutes and constitutions.

By: Zap Ichigo

Congress is permitted to make federal laws on the areas that the Constitution has delegated as appropriate.