What Are the Different Types of Probation Programs?
Probation is an alternative sentence that allows convicted offenders to stay out of jail. There are several types of probation programs, and they typically vary by what is required of the offender. The most common types of probation programs are supervised probation, unsupervised probation, community control, shock probation and crime-specific probation.
Supervised probation requires the offender to check in with his or her probation officer on a regular basis. These check-ins can be by phone or in person. Depending on the history of the offender, check-ins might be required monthly or weekly. The court typically imposes other restrictions required for probation, such as being home by a certain curfew or staying away from known criminals. Committing any crimes while on supervised probation will usually cause the probation to be revoked.
In unsupervised, or informal, probation, the offender is not assigned a probation officer. Instead, the offender is asked to report to the judge periodically. Unsupervised probation is often offered to minors who commit small crimes. Requirements associated with unsupervised probation might be to attend classes or counseling and to engage in community service.
Community control is more intensive than regular supervised probation. In community control, the offender is in the community but is constantly monitored. It might involve house arrest. Many offenders on community control wear ankle bracelets with global positioning system (GPS) devices to allow monitoring by probation officers. People placed on community control usually committed more dangerous crimes, such as violent crimes or sex offenses.
Shock probation allows individuals to receive probation after spending a short period of time in a correctional facility. The theory behind shock probation is that the individual will be frightened by his or her time locked up and will be more motivated to comply with the requirements of probation. Shock probation is most often given to first-time offenders. This type of probation is not used is some locations.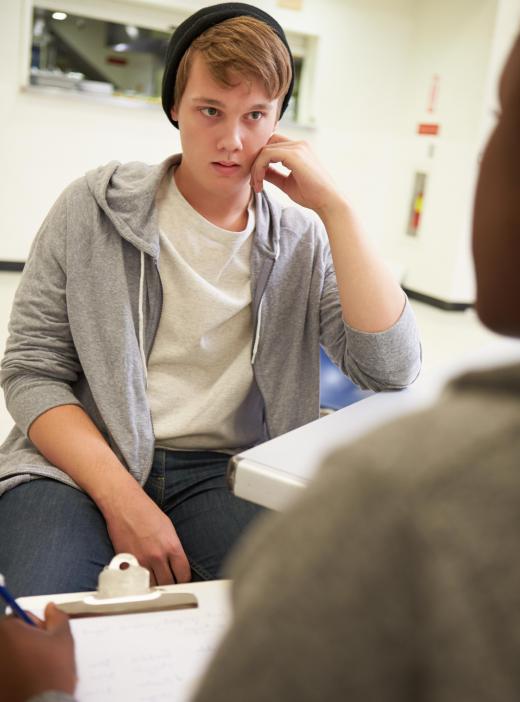 Many communities have instituted crime-specific probation programs. For example, people convicted of drug offenses often participate in drug-specific probation programs that involve education, counseling and frequent drug tests. Sex offenders might have specific requirements such as placement on a public registry or living in restricted areas.
Diversion is another type of alternative sentencing that is similar to probation. The difference is that diversion typically occurs before the trial, and if the defendant successfully completes the diversion program, criminal charges might be dropped. Diversion generally is offered to first-time offenders of minor crimes, when the defendant does not seem likely to become a repeat offender. The requirements of diversion are often similar to those of probation, such as classes, counseling and community service. If the defendant completes the requirements, he or she is able to avoid the stigma of having a criminal record.
What Is Probation?
In the legal system, probation refers to an alternative type of punishment for convicted criminals that includes monitoring but not incarceration. Depending on the type of offense, a judge may order a defendant to complete probation in a rehabilitation center. However, most people on probation can live at home while following the guidelines set in place by the court. Some of the common rules of probation include:
Remaining in the state during the probationary period
Keeping a court-ordered curfew
Not keeping drugs or paraphernalia
Avoiding criminal contacts
Paying restitution or compensation as ordered by the court
Attending court-ordered programs, counseling or rehabilitation
Many states offer variations on their probation programs designed to target the needs of different types of offenders.
Shock Probation
Shock probation is a type of punishment where the court orders an individual to spend a short amount of time in a correctional facility but then allows them to complete their sentence at home. This type of punishment works well for first-time offenders who are likely to be scared straight once they get a taste of life behind bars. Not wanting to return to jail or prison, these offenders are highly motivated to comply with the judge's orders and submit to the rules of probation.
Community Control Probation
Under a community control program, offenders are required to remain at home under the tracking of an electronic ankle monitoring device. If the judge approves, the individual may be allowed to travel to school or work and home again.
Crime-Specific Probation
Crime-specific programs allow judges to set conditions to prevent the individual from reoffending the same crime. These may include attendance at drug or alcohol programs, registration as a sex offender or a prohibition on owning a computer device.
Diversion Programs
Many courts offer first-time offenders of minor crimes the option to complete a diversion program in lieu of probation or incarceration. The requirements may be similar to those of probation, such as counseling, anger management classes or community service. However, when the defendant successfully finishes the diversion program to the satisfaction of the court, the judge may drop the criminal charges. This teaches offenders an important lesson while allowing them to avoid having a permanent criminal record and ideally prevents them from reoffending in the future.
What Is Supervised Probation?
While different states have varying rules around individual probation programs, supervised probation generally refers to a sentence where a lawbreaker must report to an officer of the court regularly. Depending on the nature of the offense, these meetings may happen over the phone or in-person on a weekly or monthly basis, as determined by the judge. The probationer must comply with all the conditions and rules set forth by the court, or the officer can report the offender for violating probation.
Probation Violations
A probation sentence is considered a privilege because convicted probationers are allowed to remain in the community and function as members of society if they obey the rules of the court. Judges do not often show leniency to individuals who break these agreements. Common probation violations include:
Missing scheduled appointments with a probation officer
Failing to attend court hearings
Not completing community service or other court-ordered programs
Not paying restitution or fines
Failing to maintain employment
Committing additional crimes
Violating probation is a serious offense that often leads to more severe legal consequences such as an extended probationary period, modified probation with additional requirements or revocation of probation with a mandatory jail sentence.
What Is Unsupervised Probation?
Those convicted of misdemeanor crimes may qualify for informal or unsupervised probation. The difference between supervised and unsupervised probation is the absence of an officer managing the case, but the terms and conditions can remain the same. Offenders may qualify for unsupervised probation when they have little to no criminal history, show effort to improve and are determined by a judge to be at low risk of reoffending. Some judges may require offenders to appear in court occasionally to discuss their progress, and failing to appear constitutes a probation violation.
Like other types of probation sentences, neglecting to adhere to the rules of an unsupervised probation order can result in jail time. Alternatively, offenders who take their punishment seriously, successfully complete requirements and show progress in their behavior patterns may be eligible for early termination of probation. Some criminals who turn their lives around and impress the courts with their ability to become productive members of society may even have their criminal records expunged after serving their probation.
AS FEATURED ON:
AS FEATURED ON:





By: Pixsooz

Some probation programs may require offenders to gain employment.

By: stocksolutions

Community control is more intensive than regular supervised probation, and offenders are usually required to wear ankle bracelets.

By: Monkey Business

Community service may be part of a probation program.

By: Monkey Business

Probation programs might work with juvenile offenders.

By: vgstudio

Sex offenders might have specific requirements such as placement on a public registry or living in restricted areas.

By: alexsokolov

Probation officers might set up counseling appointments for offenders.

By: ruigsantos

Offenders who fail to adhere to probation programs may end up being arrested again.

By: gaborphotos

People who are on probation are typically subjected to random drug testing.

By: bst2012

Mental health assistance and counseling are examples of federal probation requirements.