What are the Elements of a Crime?
The elements of a crime are a series of components which must be present in order for it to be demonstrated that someone is guilty of a crime. The prosecution must provide supporting evidence to demonstrate that all of the parts of a crime are present in a given case and the defense can challenge the validity of a case on one or more elements. Different legal systems have different standards and some truly bizarre cases have arisen to test the legal definition of the elements of a crime.
Four key components must be present: intent, conduct, concurrence, and causation. Without one of these elements, a case can start to fall apart. This fact explains why sometimes the defense will freely admit to something which seems incriminating, only to still win the case; it accepts that one element was present, but denies other elements of a crime and uses these to deconstruct the prosecution's case.
Intent, also known as mens rea or "guilty mind," requires someone to intend to commit a crime, and to have the mental capacity to have intent. For example, someone who plans to commit a robbery clearly meets the condition of intent. If the robber hits and kills a pedestrian with the car on the way to the robbery, however, the robber cannot be charged with murder because he or she did not intend to kill the pedestrian. The pedestrian is still dead, of course, and the robber will be liable for manslaughter.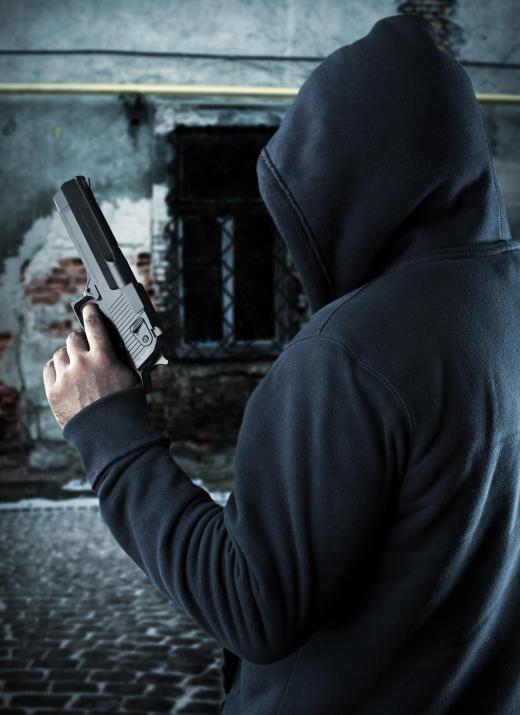 Conduct refers to actions taken on the part of the accused. To borrow our robber example again, someone can intend to commit a robbery but never actually do it, in which case the robber is not guilty because no conduct occurred. Concurrence requires a connection to be present between intent and conduct. While concurrence is often defined as "at the same time," it is recognized that sometimes intent and conduct can occur at different points in time and someone can still be guilty.
Finally, the elements of a crime include causation, that the intent and conduct of the accused led to the crime. Someone can intend to commit a crime and engage in criminal conduct, but not actually commit the crime at issue in the court. For instance, if an assassin fires a gun and misses, intent and conduct are present, but causation is not. If the would-be victim later drops dead, the assassin's bullet was not the cause.
AS FEATURED ON:
AS FEATURED ON:





By: jedi-master

Causation is present when someone intends to break into a vehicle and does so.

By: Nomad_Soul

Pre-meditation is when a crime is planned out ahead of being enacted.

By: filodespada

The act of firing a gun reveals intention but not causation.

By: vvoe

A person who accidentally kills another, such as during a car accident, is liable for manslaughter.