A bank robbery is the act of a person stealing, or attempting to steal, from a banking institution during operating hours while using threat, intimidation or force. The act involves one or more robbers entering the bank and demanding money from an employee, usually a teller. The robber may or may not have or use a weapon. The motive typically behind bank robberies is monetary gain.
A bank robbery differs from a bank being burglarized. A robbery is using threat, intimidation or force against another person to gain money or valuables, therefore, it is stealing or intending to steal during operational hours when people are present that constitutes a bank robbery. When a person unlawfully enters the bank after it is closed to steal or attempt to steal money or valuables when no employees or customers are present is when a bank has been burglarized.
More often than not, the perpetrator commits the crime alone, though sometimes an accomplice may be involved. There are several methods for which a robber may inform one or more employees, and possibly customers, that a crime is taking place. For example, he or she may appear to make a transaction with a teller while silently passing a note demanding money. Other robbers may walk into the bank and make an announcement to everyone present that it's a robbery and then take money. The robber may also take hostages or make a quick escape after receiving the money.
During a bank robbery, the robber will make a demand either orally or by using a note. Some claim to have a weapon but may not actually have one; sometimes a robber shows the weapon, other times it is kept hidden. The weapons they typically have or claim to have are handguns or firearms; some have or claim to have an explosive device.
In the U.S., credit unions, savings and loan associations and banks are protected by the federal Bank Robbery Act of 1934 as long as they are part of the federal system, organized under federal law or are federally insured. A bank robbery is considered a federal crime.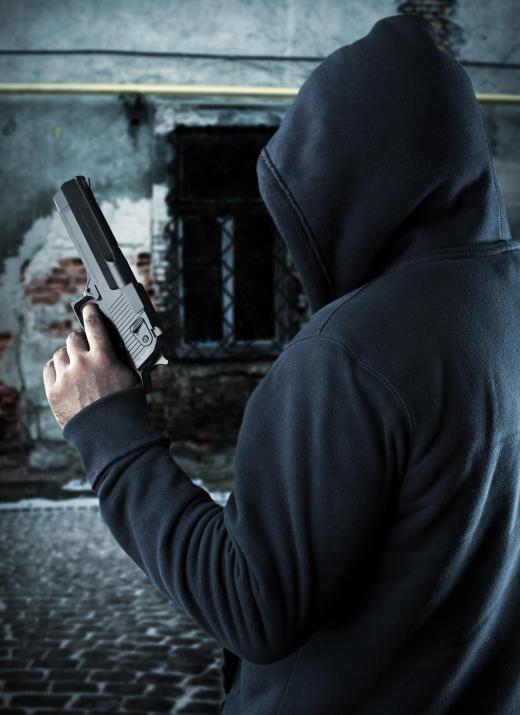 Banking institutions typically have security features in place should a robbery incur. One is a secret trigger, often a button under the counter, that a teller can activate to notify police. There may also be other sensors in certain areas of the bank, such as laser sensors in a vault, that could also be activated. In some cases, all of the employees may not know about it. There may also be guards stationed at the bank.
To catch the robber, police may use surveillance footage to get a good look at the suspect. Banks may also use dye packs, which are put in with the money and release a dye on the offender. Some may also use electronic tracking devices.
AS FEATURED ON:
AS FEATURED ON:





By: JackF

Bank robbers typically pursue bundles of cold hard cash.

By: James Steidl

Banks often have laser sensors around its vault in case of a robbery.

By: Nomad_Soul

Bank robberies are often planned ahead of time.