What Is a Class 5 Felony?
A class 5 felony is a categorization used in some regions to describe a certain set of crimes that are typically considered less serious, though still felonious, on the scale of felony crimes that can be committed. In places like the US, not all states have a class 5 felony grouping. The lowest felony may be Class 4 or alternately, states can use an alphabetical classification system. In this case, class E might be similar to class 5, but it isn't always an exact translation, which means, essentially, that each state defines its classes differently.
Given this difference between regions, in may only be possible to define a class 5 felony within an individual region. Both punishment and crime could vary between states. Some of the criminal acts that might be within this group include minor forms of assault, and criminal damage exceeding several thousand dollars in value.
Each jurisdiction has a corresponding minimum prison sentence and fine structure that would be associated with this class, when it exists. In most US states, prison time for a class 5 felony ranges from about 18 months to three years, and fines could be in the range of tens of thousands of US Dollars (USD). Whether both prison time and a fine is given at time of sentencing depends on a judge's discretion. Moreover, sometimes it's possible to plead a class 5 felony down to a misdemeanor charge, but this would be most likely in cases with first time offenders, particularly juveniles, and it isn't always possible.
It's not entirely accurate to consider the class 5 felony as a "lesser" crime because this may diminish the fact that a person committed a very egregious act. When convicted, it is almost always the case that a person will need to serve jail time, and any crime classed a felony is extremely serious. The fact that a class 5 has a lower number shouldn't detract from the concept that a felony charge is a grave charge.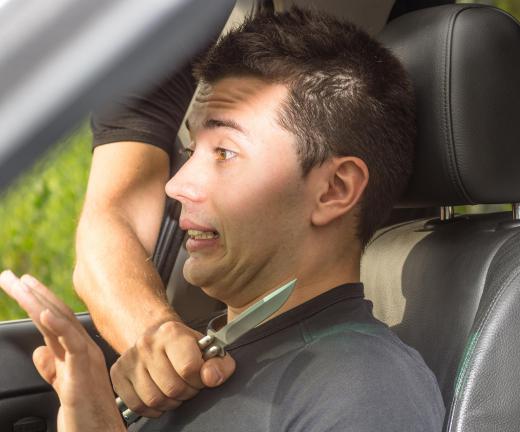 Given the gravity of being charged with a class 5 felony, people will naturally understand the necessity of adequate representation by skilled counsel. Those facing this charge are advised to find lawyers with criminal law experience. In many countries, people who are unable to afford counsel may be offered free representation by the state. It would be vital to accept this offer, provided private representation can't be obtained, to defend against this charge, and as previously stated, some of the lower felony classes do get pleaded down to misdemeanor charges. Coping with a misdemeanor conviction is generally much easier than trying to account for being convicted of a felony.
Frequently Asked Questions
What is the least severe category of crime in the United States?
In the United States, the least severe felony is a fifth-degree or Class 5 felony. Three years in prison time and/or a $10,000 fine, whichever comes first, applies as punishment. In the United Kingdom, burglary with the intent to distribute narcotics, assault with a deadly weapon, and grand theft all fall under the category of Class 5 crimes.
What are the relative risks associated with the least severe felony and the more serious ones?
Class 5 felonies are less serious than Class 1 through Class 4 felonies. There is a spectrum of felony severity. Class 1 felonies are the most severe since they can result in a life sentence if convicted.
What are the fundamental differences between a Class 5 Felony and a Misdemeanor?
A Class 5 felony can result in three years in prison and/or a $10,000 fine, making it a more serious crime than a misdemeanor. The majority of crimes classified as misdemeanors can result in jail time of less than one year and/or monetary fines. Examples of misdemeanors include stealing a very minor quantity of property, getting drunk in public, and engaging in disruptive behavior.
What kind of criminal activity can result in a conviction for a Class 5 felony?
If you are found guilty of committing a Class 5 felony, you face a possible sentence of three years in prison and/or a fine of $10,000. It is possible that as a result, certain rights, such as the right to vote and the freedom to own and carry arms, will be taken away. If you have a felony conviction on your record, it will likely be more difficult for you to locate gainful employment as well as a suitable home to reside.
Is it possible for a person to have a Class 5 felony removed from their record?
Depending on the state, a Class 5 felony may be erased. An expungement seals a criminal record from public view. If you want to expunge a Class 5 felony conviction, see a local criminal defense attorney.
AS FEATURED ON:
AS FEATURED ON:





By: Ariusz

Individuals charged with committing a class 5 felony may face arrest.

By: Jean-Jacques Cordier

In most US states, prison time for a class 5 felony ranges from about 18 months to three years.

By: oneinchpunch

Anyone accused of automobile theft who threatened or harmed the vehicle's owner or passengers will nearly always face felony charges.