A crime scene is a location linked with the commission of a crime. This can include the site where a crime was committed, or a site where activities related to the crime took place, such as a dump site for a murder weapon or the home of a suspect. These places contain important physical evidence which must be collected to investigate the crime, usually by forensic investigators who specialize in the management of crime scenes.
Once a crime scene is identified, the key concern is securing it to prevent contamination. Sometimes, a site is identified immediately, as when someone is murdered on the street in front of a store, and investigators can promptly move in and secure the site. In other cases, months or even years may elapse before a site is recognized as the scene of a crime, which means that the evidence at the site may be damaged or destroyed, but securing the site is still critical to maintain as much integrity as possible.
Part of the securing of a crime scene is focused on making sure that people access the site in an orderly fashion, and that procedures are followed to ensure that the site remains as clean as possible, so that evidence collected from the site will not only be useful in investigation and also valid in court. If evidence is compromised, it can taint the entire crime scene, potentially ruining a criminal case in court, which is a very serious issue, and cases have been lost in court over damaged or mishandled evidence.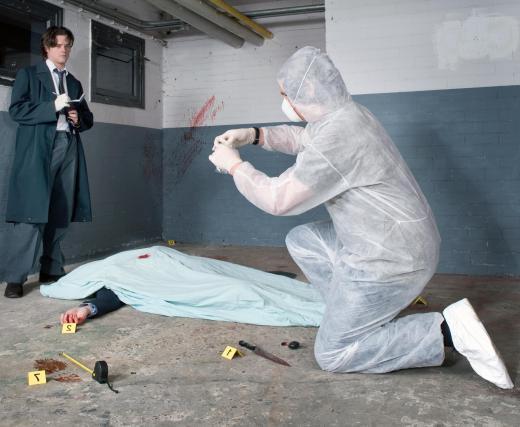 At a crime scene, investigators take numerous photographs to document the site, and they collect physical evidence which may be useful. They may also take advantage of their time at the site to get a feel for the area, and to take note of people hanging around the site and expressing interest, as they may be linked to the crime. Because investigation of a crime scene also contaminates it as people move through, collect evidence, and introduce new materials to the site, investigators move with care, and they do not hurry through the critical early stages of the investigation.
Once investigators have gleaned everything possible from a crime scene, they release it. After release, people can go back to using the site as they normally would. The site may require specialized cleanup to remove dangerous substances, along with the unsavory reminders of a crime, such as the smell of a decomposing body or damage caused by a fire.
AS FEATURED ON:
AS FEATURED ON:





By: Loren Rodgers

The location where a crime has been committed is the crime scene.

By: corepics

Physical evidence must be collected from crime scenes.

By: Vasiliy Koval

A crime lab analyst inspects material evidence from crime scenes.

By: ia_64

A crime scene is an area linked to an illegal act.

By: LukaTDB

Securing a crime scene helps to ensure that people access the site in an orderly fashion and that proper procedures are followed.

By: hues

Murder investigators will often test the suspected murder weapon for clues.