What Is a Divorce Affidavit?
A divorce affidavit is a legal document filed by parties wishing to dissolve their marriages. Forms for this document vary across states and jurisdictions. The document is usually considered to be a statement made under oath and must be witnessed and notarized. During the divorce process, many affidavit forms may be required of both the plaintiff and defendant. The affidavit of divorce may be completed by the filing party or an attorney, but signing the document declares that all information on the form is correct and complete.
The initial legal document that initiates divorce proceedings may be called a divorce affidavit, a letter of complaint, or an original petition for divorce. This document is filed by the plaintiff, known in some jurisdictions as the petitioner, in a local court. This document will state a reason for separation such as "irreconcilable differences," and begin disclosure on legal considerations for the divorce. The defendant or respondent may respond with another affidavit of divorce form.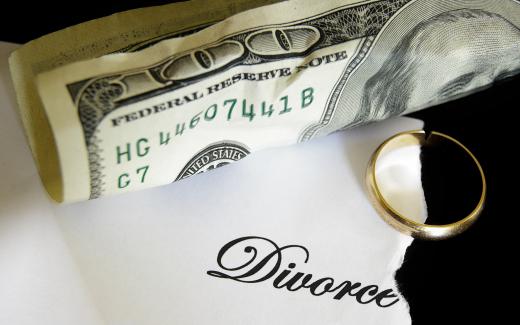 Although forms vary by jurisdiction, some fields are relatively standard on the divorce affidavit. The plaintiff must attest that he or she believes there is no chance of reconciliation for the marriage. Most jurisdictions offer no-fault divorces, but if the plaintiff is requesting an absolute divorce he must describe the marriage's issues on this document. The divorce affidavit also includes information about the children of the couple and gives an initial request for custody and support considerations.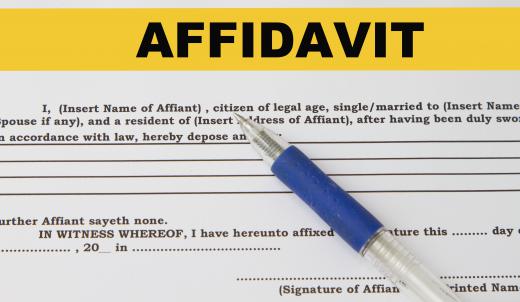 The plaintiff must also disclose mutual property of the divorcing couple in the affidavit of divorce. Most states grant property equally, but the court has the authority to define which items are awarded to each party. The petitioner may request property considerations. Similarly, the divorce affidavit serves as a formal request for spousal support.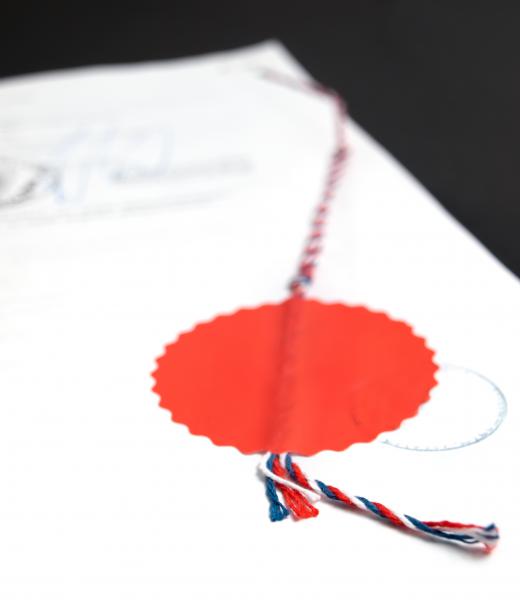 Once the initial affidavit has been filed, other legal disclosures may be required by the court. A financial affidavit or a military affidavit form may be required. These forms are also considered affidavits because they imply an oath of truth and must be witnessed and notarized. Once filed, all of these forms should be kept secure with other important family documents.
Divorces are usually tried under the purview of family courts. Divorce forms can usually be found on state and regional web pages or by visiting the divorce court. A divorce affidavit is a first step toward dissolving a marriage. The divorce is not final until a judge reviews all affidavits, hears arguments from the divorcing couple, and grants an official judgment of divorce.
What Is a Financial Affidavit for Divorce?
A financial affidavit may be required in many types of court cases. In the case of a divorce proceeding, a financial affidavit is a document that lays out a detailed picture of the financial situation of both parties involved. This document will be used to determine what property will be divided between spouses as opposed to what is solely owned by one spouse. It will also help the court determine how to allocate spousal support and child support.
The financial affidavit is a legal document and must be notarized and certified by the court and is considered to be sworn testimony once complete. These documents must be comprehensive and accurate. Should a party in the divorce purposely withhold information or provide inaccurate information, the discovery process will be prolonged, and the offender could receive fines or even time in jail. Judges have been known to deal with this kind of dishonesty harshly, sometimes awarding assets that one spouse has hidden to the opposing spouse in their entirety.
Financial affidavits require an extensive amount of information about all financial matters. Parties need to disclose income, expenses, assets and debt. The list will include items such as:
All income in the form of salary and wage, interest and dividends, social security, pensions and annuities, and trusts
All expenses, including mortgages, car payments, credit cards, and lines of credit
All assets such as residences, vehicles, fine art, jewelry, stocks and bonds, and retirement plans
Calculations of these amounts must be exact, and parties will often have to break income and expenses down into weekly or monthly responsibilities. It can be helpful to get the assistance of an accountant to complete a financial affidavit correctly. For couples with complex financials, hiring a certified public accountant is essential.
What About Credit Card Debt?
In contested divorces, the division of credit card debt can be a point of bitter argument between spouses. The court will initially look at what kind of credit card account is being discussed. There are three basic types that a couple might have:
A joint account means that both parties have their name on the account and have full access to using it.
An authorized account is when one spouse is the account holder but has given formal permission for the other spouse to have access to it.
A sole account is held by one spouse only and the other cannot use it.
On the surface, the designation of credit card debt is fairly simple for two of these situations. Both spouses will be held equally responsible for the charges on a joint account, and the account holder will be held responsible for charges on an account that he or she had sole access to.
If circumstances have occurred to make these obvious allocations unfair, lawyers will need to prove to the court that the logical separation of these debts is not equitable. This can occur, for example, when one spouse deliberately incurs a high amount of debt on a joint or authorized account after the divorce papers have been served. This will also apply to the assignment of responsibility for any authorized account when the account owner believes that the opposing spouse should be held responsible for some portion of the debt.
Can I Amend Financial Affidavit During Divorce?
Each spouse is required to reveal their financial affidavit to the other spouse and both attorneys. In the instance of mistakes on the form that were made in good faith, the financial affidavit can be amended. Given the difficulty of filling out these documents, it is in the best interest of both spouses to ensure that the affidavits are accurate and complete upon the first submission. Should a spouse or lawyer determine that omissions or inaccurate information are being provided deliberately, the case will go into discovery, and more details will be requested.
What Is an Affidavit of Service in a Divorce?
The affidavit of service is a document that provides legal proof that a spouse has received formal notice of an impending divorce and the official documents pertaining to that action. It is preferable that service is done in person by a registered process server who will hand the documents directly to the defendant. If the person being served cannot be found or is living out of state, the court may allow the documents to be mailed or for the defendant to be notified of the action through a publication such as a newspaper.
AS FEATURED ON:
AS FEATURED ON:





By: zimmytws

Proceedings to end a marriage are initiated by filing a divorce affidavit.

By: Marzky Ragsac Jr.

The party wishing to dissolve a marriage completes a divorce affidavit.

By: Sinisa Botas

A divorce affidavit is signed by those filing to dissolve a marriage, as well as their legal representives.

By: Kurhan

Divorce affidavits state the reason for a couple's separation.

By: DragonImages

A divorce is not finalized until a judge reviews the divorce affidavits and renders a decision.