What is a Signature Affidavit?
A signature affidavit is a document in which the signatory affirms that his or her legal name is written and typed as stated in the affidavit. The affidavit is often signed in front of a notary public, who then signs the affidavit and stamps it with a notary seal. There are many uses of a signature affidavit, including as a part of processing loan paperwork. It's also often used to state all of the signatory's name variations, including maiden names and nicknames. Some jurisdictions require a sworn oath to accompany the affidavit in order for it to be valid.
The primary benefit of a signature affidavit for commercial transactions is a precaution in the event the signatory submits signatures that vary. Someone who has to sign multiple pages of documents might mistakenly sign her maiden name on one page, her married name on another, and leave out initials on yet another. An AKA statement, or also known as statement, is often included in a signature affidavit so that the inconsistent signatures are attributed to the signatory. This affidavit is often used as a preventative measure that protects the other party from being sued for claims on an invalid contract because of inconsistent signatures. These are often used in the mortgage industry to process promissory notes and by parties to lengthy contracts who want to protect themselves in the event of a lawsuit.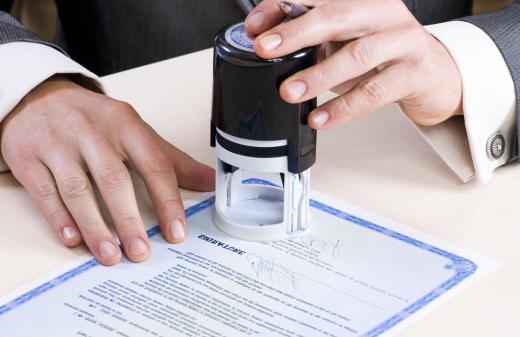 In some cases, a signature affidavit may include a declaration by the signatory that he has never been referred to by a specific name. For example, if a party to a transaction is concerned about research that was uncovered that implicates some past defaults on debt by the signatory, that person can request that such a declaration be made. The signatory can often deny that he is that person in a sworn affidavit.
A signature affidavit is also used to protect against fraud. It can be difficult to prove that documents were signed fraudulently when there is a signature affidavit sworn under oath or signed by a notary public that matches the signatures on the documents in question. The court can compare the signature that is claimed to be fraudulent with the signatures on the affidavit to see whether they are the same. If a judge or jury is unable to make that determination, an expert witness can testify as to whether the signatures are the same. The reverse is true as well, in that an affidavit may prove that documents were indeed signed by someone other than the signatory.
AS FEATURED ON:
AS FEATURED ON:





By: Iurii Sokolov

Signature affidavits are often signed and stamped by a notary public.

By: Marzky Ragsac Jr.

A signature affidavit can be used as protection against fraud.

By: Tupungato

Signature affidavits can be used as part of processing loan paperwork.