What Is a Scrivener's Affidavit?
A scrivener's affidavit is a form used to correct minor errors in a legal document that was previously executed. Some of the errors that the scrivener affidavit is used to correct include a typographical error, misspelling of a name, or incorrect strikeover of a word. It often cannot be used to make substantial changes, such as the term of a contract or the amount of compensation. In those cases, parties must sign an amendment or a new document to fix the error. Like other affidavits, it has to be sworn under oath or witnessed and signed by a notary public in most jurisdictions.
A scrivener is a clerk or copyist who is hired to write or prepare written instruments, and a scrivener's error is a term that refers to the errors made when preparing those documents. The errors are often made by mistake or inadvertence, and they are minor and unintentional. A scrivener's affidavit, sometimes referred to as an affidavit of correction or affidavit of error, is used to correct those errors. The alternative would be to re-execute the document, which is often not possible once it has been recorded. The affidavit is often recorded with the document it corrects in order to put the public on notice of the error and the correction.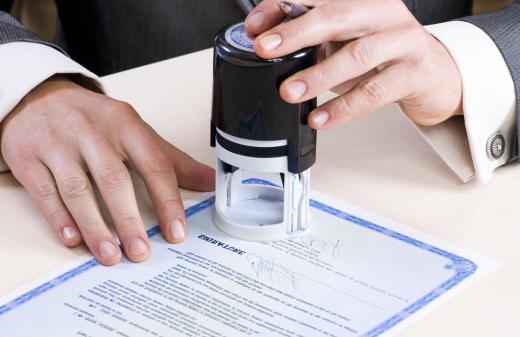 Some errors in legal documents are initially missed by the parties at the time of signing or preparation. When they discover those errors at a later date, it's easy to fix them with a scrivener's affidavit. The alternative would be to alter the original documents, which might be burdensome to one or both parties. For example, in real estate transactions in which the paperwork is lengthy, it would cost less and be easier to manage if one of the parties were to execute a scrivener's affidavit to correct a misspelling or omission of an initial on a deed. The main piece of criteria for using the affidavit is that the error does not try to make a material change to the document it seeks to correct, because it often is inadequate to meet the statutory requirements for executing the original document.
Regions often have a scrivener's affidavit form for a recorded document that leaves blanks for the affiant to fill out. The forms are often included in the applicable statute or given by the government representative who is the custodian of those records. Individuals can also find templates of affidavits for documents that are not recorded in various legal software packages or free on the Internet.
What Is a Scrivener's Error Affidavit?
Mortgage companies and attorneys use a scrivener's affidavit to clarify minor errors unintentionally made on a legal document. Missing items such as a suffix to a name, marital status, a middle initial, or a lot number of an address may be necessary to clarify ownership. In these cases, the document preparer can file a scrivener's affidavit detailing the updated information. The original documents remain as written, but the scrivener's error affidavit explains the correction.
What Is the Difference Between a Scrivener's Error Affidavit and a Deed Correction?
Sometimes documents contain much bigger mistakes that an affidavit cannot fix. In real estate, if a purchaser's or seller's name is incorrect, the document preparer should file a deed correction. Some other reasons real estate transactions may require a deed correction are:
Wrong name listed as seller or buyer
Missing description of the property
Incorrect address of the land
The purchase price of the estate is incorrect
A deed correction requires signatures of all parties and remains with the original documents. This process is not as simple as a scrivener's affidavit but is less time-consuming than filing a new deed.
When Is a New Deed Required?
Sometimes people want to make significant changes to a deed or other legal documents. These changes can not be completed with a scrivener's affidavit or a deed correction and may require filing a new deed instead. If either party wants to add or remove property to the deed, they need to replace the original document with a new deed. When transferring property to another owner not listed on the original deed, a new document is also required.
What Can a Scrivener's Affidavit Be Used for?
Many legal transactions require multiple pages of documents. These forms take time to complete, sign and file with the courts. If someone finds a small error or omission after submitting the legal documents, the fastest way to fix the problem is by filing a scrivener's affidavit.
Lawyers use scrivener's error affidavits to record minor mistakes in property documentation. Items such as mortgages, deeds, titles for both real estate and personal property, easements and power of attorney have no room for errors. The lawyer, grantor or mortgage company employee who created the original document can use a scrivener's affidavit to correct minor mistakes. This procedure is more efficient than recreating and refiling the documents.
How Do I Fill Out a Scrivener's Error Affidavit?
Some locations have fill-in-the-blank scrivener's error affidavits available to make the process efficient. Whether using a prepared form or creating one from scratch, each document should include the following vital information:
The date the clerk recorded the document
The names of all people that signed the original document
The name of the person who prepared the original document and their job title
A description of the omission or error
The corrected or added information
The affidavit must also include a statement testifying that the signer swears under oath that the information on the document is correct. A notary certifies the forms before submittal to the appropriate department.
Why Is a Scrivener's Affidavit Necessary?
Minor mistakes on real estate documents can cause future title searches problems. When real estate changes hands, the purchaser usually wants to verify that the property belongs to the seller.
With databases full of property records, having accurate details about the land is essential for verifying this information. Middle initials or plot numbers may be all that separates two different properties. If the names or property details do not match as expected, a mortgage company or future owner may not want the real estate because of the title mistake.
AS FEATURED ON:
AS FEATURED ON:





By: Iurii Sokolov

A scrivener's affidavit is often witnessed and signed by a notary public.

By: Marzky Ragsac Jr.

A scrivener's affidavit is used correct small errors in legal documents.

By: picsfive

When preparing an affidavit, a person typically writes down all of the relevant facts concerning the legal matter.