What is Aggravated Assault?
Aggravated assault is a form of physical assault that is typically considered more severe or vicious than assault. This type of crime or charge is usually indicated by the use of a weapon or other object to inflict or attempt to inflict the injury. Certain assaults against some individuals can also be considered as aggravated assaults due to the nature of the victim, such as a police officer or a similar public official. Aggravated assault is typically established by state laws in the United States and the specifics of these statutes can vary from state to state.
The typical primary difference between assault and aggravated assault is the use of a weapon or other object during the attack. Under normal circumstances, if a person attacks another person with his or her bare hands with the intention of physically harming the other person or causing him or her bodily harm, then the person would be charged with assault. If a person attacks another person with a knife, gun, blunt object, or other similar type of weapon that could not only cause serious bodily harm but potentially kill, maim, or seriously disfigure the person, then the person could be charged with aggravated assault. Aggravated assault is commonly used to indicate that the form of assault was more severe and that the punishment should also be more severe.
In most states, aggravated assault is a higher class of felony than assault and carries with it more extensive penalties and punishments. Laws can also indicate a particular type of target in order to make certain forms of assault more severe by establishing them as aggravated assault. For example, some states have included violent crimes against teachers or other education professionals at schools as being aggravated assault rather than just assault. This allows courts to punish particular types of violent crimes more severely than others, such as those that target police officers, teachers, government employees, and emergency support and services workers.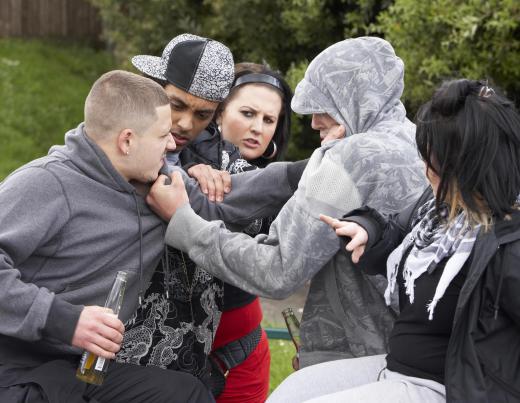 The word "aggravated" is typically used within the legal profession as a way of distinguishing a particular type of crime as being more serious or egregious. For example, sexual assault typically describes some type of violent sexual crime against another person. Aggravated sexual assault, however, describes a violent sexual crime against a person in which a weapon is also used to disfigure or seriously injure the person, or if the victim was in some way incapacitated during the crime.
AS FEATURED ON:
AS FEATURED ON:





By: aijohn784

Assault involving a weapon may be considered aggravated.

By: Monkey Business

Assault charges may be filed after an altercation depending on the circumstances.

By: BortN66

Aggravated assaults are usually indicated by the use of a weapon.

By: jurra8

An assault victim may choose to take a firearms class for self-defense purposes.

By: areporter

A victim of aggravated assault may suffer from psychological trauma.