What is an Arrest Report?
An arrest report is a legal document which provides the details of an arrest. People also sometimes use the term "arrest report" to refer to an arrest log, a documentation of all arrests which occurred within a set time period. Such documents are usually available to the public by request, and because they can be items of news interest, many newspapers maintain a staffer who reviews arrest logs for information which might be used to generate a story or to provide more information about a story.
Arrest reports include a great deal of information. The name of the law enforcement agent or agents involved is listed, along with the agency or agencies the agent or agents work for. In addition, the arrest report provides information about the date and time of the arrest, the charges, and the scheduled court date, if one is available. It may also include notes and observations from the arresting officer.
From the perspective of law enforcement, the arrest report provides documentation about how, why, and when an arrest occurred. This information can be used in the future when prosecuting a crime, and it can also be used if there is a dispute about the situation or if someone wishes to contest charges or an arrest. For example, if someone sues for unlawful arrest, the arrest report will become a key document in the case as it can be used to determine whether or not law enforcement acted appropriately.
This document can also be the start of a paper trail for someone who is entering the justice system. The arrest report goes on the person's record, along with information taken at intake such as fingerprints, photograph, and demographic data. For repeat offenders, an arrest report may be of interest to parole officers and other people interested in the case.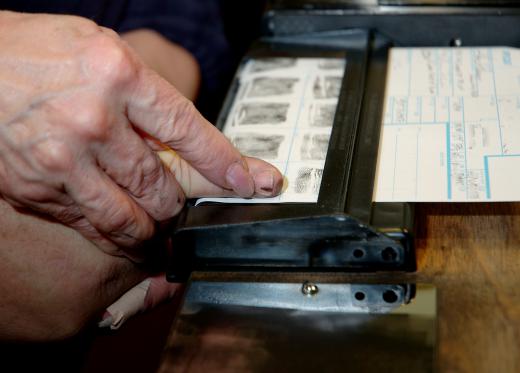 Arrest reports are also used to convey information to other law enforcement agencies. For example, if an agent arrests someone on a warrant from another agency, the arrest report will be sent out so that the issuing agency knows that the subject of the warrant has been apprehended. Likewise, arrest reports can be sent by request if an agency wants the complete arrest history of someone they have arrested or detained.
In some regions, arrest reports pertaining to juveniles may be sealed in accordance with the law. The reports will also not be considered in an adult record, unless special circumstances are involved.
AS FEATURED ON:
AS FEATURED ON:





By: Alexander Raths

The details of an arrest are provided in an arrest report.

By: Robert Hoetink

Arrest reports are public information, and may be printed in local newspapers.

By: Marina Krasnovid

Fingerprints are taken as part of an arrest report.

By: Monkey Business

An arrest report might include statements from everyone involved in an incident.