What Is an Arrest Affidavit?
An arrest affidavit is a form a law enforcement official fills out in relation to an arrest. Often, this form is completed when a police officer wants to secure an arrest warrant. In such a case, it is used to present the facts of a case and demonstrate probable cause for arresting an individual. The affidavit may be presented to a magistrate or judge, who then determines whether or not to issue the arrest warrant. This type of form may also be completed after an arrest has already taken place in some jurisdictions. In this situation, it may be referred to as an arrest report as well.
Every arrest affidavit must be signed by the party who prepared it. Law enforcement officials are expected to take great care in preparing them and provide detailed information. If an official leaves an important detail out or makes a mistake with relating facts, his request for a warrant may be denied.
When an arrest affidavit is used to secure an arrest warrant, it is considered a statement made under oath. If the party who completes the affidavit lies or intentionally obscures the truth, he may face perjury penalties. To obtain an arrest warrant, a law enforcement official usually has to provide details of the facts of a case and show why he believes the facts he has provided are enough to arrest the individual in question. Depending on the jurisdiction, an arrest warrant may be issued for a person who is suspected of committing a crime or is in the process of committing a crime. In fact, a jurisdiction's laws may allow for an individual to be arrested because there is good reason to believe he is preparing to commit a crime.
An arrest affidavit may be used after an officer has already made an arrest. For example, if a police officer sees a criminal in the act of committing a crime, there may be no need for an arrest warrant. Likewise, if a person's suspicious behavior gives police reason to believe he has committed a crime, they may not need a warrant. In such a case, the police officer may be required to complete an affidavit after the arrest and detail why he arrested the suspect. As with the affidaits that are used in obtaining a warrant, this type of affidavit is considered an oath, and the preparer may face perjury charges if it includes falsehoods.
Frequently Asked Questions
What is an arrest affidavit?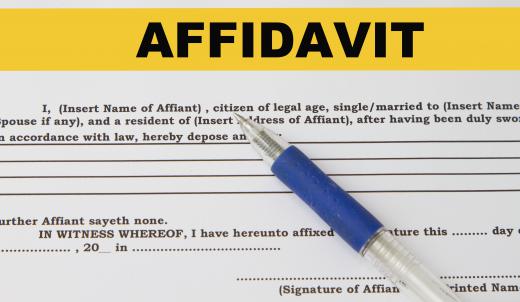 An arrest affidavit is a vital legal document that provides a comprehensive account of the circumstances leading to an individual's arrest. It serves as the foundation for establishing probable cause and is presented to a judge for review. The affidavit includes crucial details such as the date, time, and location of the alleged offense, a description of the suspect's actions, and supporting evidence or witness statements. By encapsulating these elements, the arrest affidavit aims to demonstrate to the judge that there is sufficient justification to warrant the individual's arrest and initiate legal proceedings.
How is an arrest affidavit used in the legal process?
An arrest affidavit holds significant importance in the legal process. It plays a crucial role in determining whether an arrest warrant should be issued or if the accused individual should be granted bail. The document enables judges to carefully evaluate the strength of the evidence and the existence of probable cause against the individual. Moreover, defense attorneys rely on the arrest affidavit to gain insight into the prosecution's case, allowing them to develop a strategic defense strategy. During trial, specific sections of the arrest affidavit may be utilized as evidence to support the prosecution's claims against the accused.
What information does an arrest affidavit contain?
An arrest affidavit encompasses vital information related to the alleged crime and subsequent arrest. It includes detailed specifics such as the date, time, and location of the offense, a comprehensive account of the suspect's actions or involvement, statements provided by witnesses or victims, and any physical evidence or documentation supporting the allegations. The arrest affidavit strives to present a clear, concise, and objective narrative of the events that transpired leading up to the arrest. The level of detail provided in the affidavit may vary based on the complexity and gravity of the alleged crime.
Who prepares an arrest affidavit?
Typically, law enforcement officers, such as police officers, detectives, or prosecutors, are responsible for preparing arrest affidavits. These individuals meticulously gather evidence, conduct interviews with witnesses, and compile all pertinent information necessary to substantiate the accusations made against them. The officer or prosecutor handling the case is responsible for crafting the arrest affidavit, ensuring its accuracy, completeness, and adherence to all legal requirements. Once prepared, the affidavit is submitted to a judge for careful review and consideration in determining the appropriateness of the arrest and the commencement of subsequent legal proceedings.
Is an arrest affidavit a public record?
In numerous jurisdictions, arrest affidavits are classified as "public records." Consequently, they become accessible to the general public, including media outlets, after being filed with the court. The availability of arrest affidavits contributes to transparency within the legal system, enabling individuals to access information concerning arrests and associated criminal charges. However, it is important to note that certain sensitive or confidential details, such as the identities of minors or confidential informants, may be redacted or withheld to safeguard privacy or maintain the integrity of ongoing investigations. The accessibility of arrest affidavits may vary depending on local laws and regulations, thus, consulting the relevant jurisdiction's policies is advisable to ascertain specific guidelines.
AS FEATURED ON:
AS FEATURED ON:





By: oscar williams

An arrest affidavit is a form filled out when an individual is taken into police custody.

By: robynmac

An arrest affidavit must be signed by the individual completing it.

By: Marzky Ragsac Jr.

Arrest affidavits are completed to secure a warrant for someone's arrest.

By: andreykr

Perjury charges may result in incarceration.

By: James Steidl

An arrest warrant may be unnecessary if a police officer believes he witnesses a suspect committing a crime.