What is an Express Warranty?
An express warranty is a statement about product quality made by a manufacturer at the time of advertisement or sale. Express warranties can be written or oral in nature, although consumers are advised to get oral warranties written down or to have a witness to an oral warranty, in case a dispute about a product arises. Many laws have nations surrounding the claims which companies can make about their products to distinguish between puffery, in which claims are clearly exaggerated, and express warranties, which a company must back.
An example of an express warranty might be a claim in a car advertisement which says "this vehicle only needs an oil change every 10,000 miles (16,000 kilometers) with normal use." In this case, the manufacturer is making a clear statement about product quality which would lead a consumer to schedule oil changes accordingly. If the consumer waited the full recommended period and there was a problem, he or she could demand redress from the manufacturer.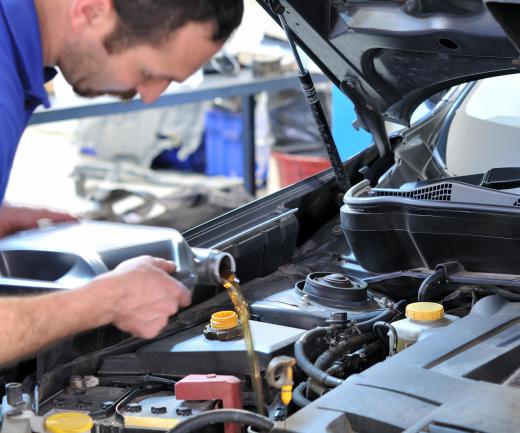 Another type of express warranty might be a claim such as "this product is guaranteed to work as advertised for one full year, or we will replace it." This type of express warranty ensures that if consumers use a product as directed and it fails, they can demand a replacement. Express warranties may also include repairs, refunds, or replacement with a refurbished, rather than new, item.
Manufacturers are very careful about the wording of express warranties to avoid making claims which they cannot back up. The wording usually includes disclaimers like "normal use," "use as directed," and so forth, so that consumers understand that the warranty does not apply if the product is used abnormally. Consumers should take note of the disclaimers included in an express warranty so that they can be aware of when the warranty does and does not apply.
Companies warranty their products to provide consumer confidence, and to increase consumer satisfaction. People usually feel more comfortable buying a product which is backed by a warranty, so that if a problem develops, they will have an avenue of redress. However, the language of warranties can be quite tricky, and consumers often find that they run afoul of the fine print in a warranty. People should always read the warranties on new products they buy, and they should make sure that they fulfill any specialized requirements, such as registering the product, to ensure that they will be eligible for warranty coverage in the event that there is a problem.
AS FEATURED ON:
AS FEATURED ON:





By: uwimages

An express warranty might specify when oil changes are needed.

By: Mike

Companies warranty their products to provide consumer confidence, and to increase consumer satisfaction.