What is Corporate Litigation?
Corporation litigation is the area of business law that involves providing counsel and legal representation in lawsuits to business enterprises. Plaintiffs and defendants of corporate litigation often range from business partnerships to international corporations, as well as those who work for those organizations or owe a fiduciary duty to them or benefit from them. Corporate lawyers are trial lawyers who initiate civil lawsuits or defend clients in cases brought against them. A corporate lawyer is also often trained to handle matters outside of court by representing clients in alternative dispute resolution or settlement. Some of the litigation matters associated with corporate litigation are breaches of contract, employment relations, and regulatory compliance.
Some of the parties to corporate litigation include shareholders, members, and directors. For example, shareholders may sue directors for a breach of fiduciary duty owed to the corporation. Business partners may sue one another for breach of a partnership agreement, or a corporation may sue a business partnership for fraud or breach of contract claims. The corporate entity or other business entity can be a party to a corporate lawsuit as well. If the corporation loses the case and is a defendant, the plaintiff is often limited to the corporate asset and not the personal assets of the shareholders. Other business entities, such as a partnership, do not have the benefit of this corporate veil.
Corporation litigation is also an enforcement tool that many businesses use. For example, some business enterprises often require employees to sign non-compete agreements in which they agree not to work for competitors or compete with the company in their own business for a certain length of time. Business enterprises often enforce those agreements in court by filing lawsuits for breach of those agreements. The business's desired outcome in those cases is often to stop the violation of the non-compete agreement, and asking the court for damages is a secondary issue. Other agreements that are typically enforced by the use of corporate litigation include non-solicitation and non-disclosure agreements.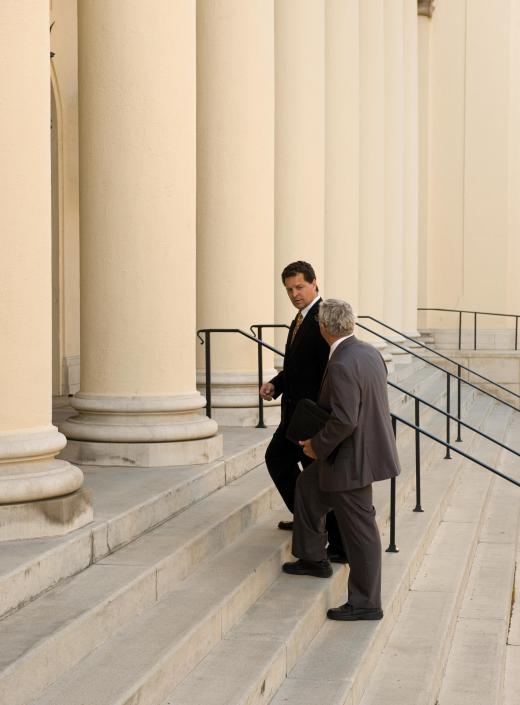 Commercial real estate disputes are a major area of corporate litigation. Some of the disputes involve default on commercial leases, financing, and buying and selling of commercial real estate. For example, a corporation that owns a shopping mall may need the help of a litigation lawyer to evict a tenant. That same corporate lawyer might also offer related services, such as drafting a standard lease agreement that the corporation can use with other tenants. While the primary service is litigation in court, some corporate litigation firms do offer transactions-based services.
AS FEATURED ON:
AS FEATURED ON:





By: pressmaster

Corporation litigation is the area of business law that involves providing counsel and legal representation in lawsuits to business enterprises.

By: James Steidl

Plaintiffs and defendants in corporate litigation can include business partnerships, international corporations and other types of companies.

By: Rido

Corporate mediation is a more cost-effective way of resolving business disputes than litigation.