What is Crime Scene Analysis?
When a crime is committed, evidence is often left behind. Crime scene analysis is the process of collecting evidence and studying it. This analysis is one of the first steps to help investigators piece together a crime. For example,where the blood is spattered or where bullet fragments are found can help investigators figure out how a crime occurred. Crime scene analysis can also help answer several other questions about the crime, such as time of death. It may provide evidence that can be used in a criminal trial.
Although crime scene analysis may start with the first law enforcement officers at the scene, specially trained crime scene investigators generally process the crime scene. One of the first steps is to secure the scene, which means limiting access to non-essential personnel. This helps prevent the crime scene from becoming contaminated.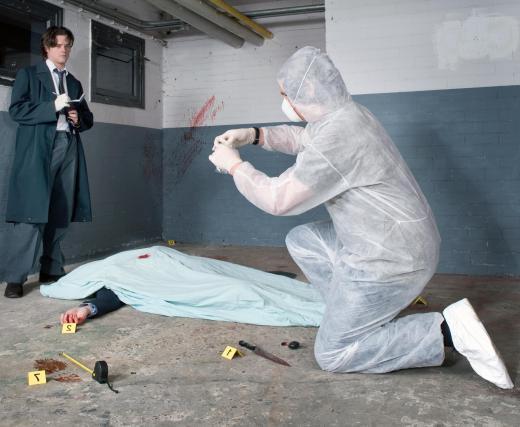 Investigators may than walk through the crime scene, to get an overall picture of what took place. This is just an overview, with much more detailed analysis taking place. Photos are often taken and investigators take notes on details of the crime scene, such as smell.
Physical evidence is a large part of crime scene investigation. Crime scene technicians collect this physical evidence, such as blood or other body fluid samples, left at the scene. The crime scene will be dusted for fingerprints. Evidence of gun powder residue is also collected.
As technology advances and DNA evidence continues to play a large role in crime scene analysis, collecting trace evidence is becoming an essential part of analyzing a crime scene. Trace evidence includes material found at the scene, which may be very small, but may still contain DNA. Often even trace amounts of DNA evidence can make or break an investigation.
The evidence is carefully collected, so as not to contaminate it. Since investigators work with blood and other body fluids, disease transmission is a possibility. Crime scene analysts must also follow safety precautions to avoid contracting any communicable diseases. Evidence is properly labeled and may be transported to law enforcement laboratories for further analysis.
In the United States and abroad, crime scene investigators may be law enforcement officers who have received specialized training or college graduates of a forensic science program. Colleges and universities offer bachelor's, master's and doctorate programs in forensic science. Crime scene analyzers may find employment through various types of law enforcement agencies, such as the sheriff's department, city police and FBI.
AS FEATURED ON:
AS FEATURED ON:





By: corepics

Crime scene analysis involves collecting and analyzing evidence.

By: Kevin Chesson

A crime scene is often dusted for fingerprints, which can then be used to identify the perpetrator.

By: Official U.S. Navy Page

Crime scene analyzers may work for the FBI.

By: Scanrail

Bullet fragments may be analyzed during a crime scene analysis.

By: Vasiliy Koval

A crime lab analyst inspects material evidence from crime scenes.

By: LukaTDB

One of the first steps in crime scene analysis is securing the location so access is limited to investigators.

By: oocoskun

Crime scene analysis often provides evidence that may be used in a trial.

By: molekuul.be

DNA evidence continues to play a large role in crime scene analysis.

By: dmitrimaruta

Field investigators often work directly at the crime scene.