Hate mail is abusive mail contact, either through the postal service or an electronic mail provider. It is a form of harassment, and in some cases, the recipient might have grounds for a lawsuit. Such mail can contain threats, epithets and other abusive language that is intended to make the recipient feel unsafe or unhappy. Recipients of such mail have several mechanisms that they can use to address the issue.
This type of mail is unsolicited and unwanted. When it is sent through the postal service, it might include packages that contain unpleasant items as well as hateful letters. Email could include malicious attachments, unpleasant images or videos that are intended to frighten or upset the recipient. In some cases, a hate mail campaign might be accompanied by abusive phone calls, Internet comments and other methods of harassment, sometimes with the goal of making the target feel isolated.
If hate mail occurs in a workplace, the recipient can contact a supervisor to discuss the situation and how to proceed. Harassment from coworkers can be disciplined in a number of ways, from firing employees who behave inappropriately to reassigning them to different departments. If the supervisor is the harasser, the employee can go to another supervisor or a higher-ranking member of the company. Unionized employees might be able to get help from their labor stewards.
When the recipient of hate mail has a restraining order or other ban on contact, the mail can be turned over to law enforcement officials and could be used as grounds for a visit from the police to remind the sender about the limits on contact. Likewise, any mail that contains a credible threat also can be turned over to law enforcement officials for evaluation and investigation. The recipient might want to copy the letter and keep it on file for future reference.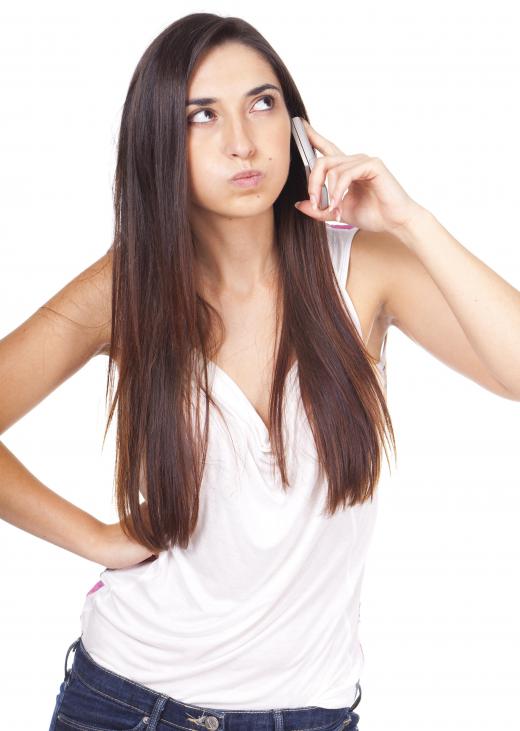 A person who is the target of mail harassment might also be able to report the sender to a parent organization or group. Anyone acting or pretending to act as a representative of an employer, agency or organization can be reported for abusive behavior, including hate mail. Internet service providers might be able to take action on abusive email if it violates their terms of service. People who have safety concerns as a result of hate speech or threats in hate mail can also report them to law enforcement agencies to make sure the threats are on the record and to find out whether there are any steps that can be taken for protection.
Some recipients attempt to fight back against hate mail by publicizing it. They might reprint particularly abusive letters in newsletters and on websites to show fans and followers the kind of content found in the unwanted mail sent to them. This tactic for handling abusive mail can sometimes be effective by either shaming the senders or encouraging other people who have received hate mail to speak up about it.
Frequently Asked Questions
Is it possible that sending hate mail might be deemed a type of a hate crime?
The sending of hate mail with the goal of inciting fear or violence against a person or group because of their race, ethnicity, religion, sexual orientation, or any other trait can, in fact, be considered a kind of a hate crime. In some jurisdictions, the punishments for crimes motivated by hatred might be more severe than those for other sorts of crimes.
What steps may be taken to stop the sending of hate mail?
Education, legal enforcement, and social support are all important components of an effective strategy for preventing hate mail, which calls for a holistic approach. Education and awareness programs that promote tolerance and respect for diversity can be implemented in a variety of settings, including schools, workplaces, and communities. Civil rights organizations can assist victims with help and advocacy while also working to investigate and prosecute hate crimes. Law enforcement authorities can also work to investigate and prosecute hate crimes. Individuals should not only speak out against hate speech and hate crimes, but also promote inclusive and compassionate ideals within their communities. It is crucial that individuals speak out against hate speech and hate crimes.
What kind of effects does receiving hate mail have on its recipients?
The recipients of hate mail may have profoundly negative emotions as a result of reading the messages. It is even possible for it to cause post-traumatic stress disorder along with anxiety and sadness (PTSD). In addition, victims may endure bodily symptoms such as headaches, nausea, and difficulty falling or staying asleep. Also, victims of hate mail may experience feelings of isolation and fear, which may hinder their ability to perform regular tasks like as going to work or attending school.
Is hate mail illegal?
In many nations, sending hate mail that includes threats of physical assault or verbal abuse is against the law, and doing so can lead to criminal penalties. In the United States, for instance, federal law allows for the prosecution of individuals who send hate mail that includes threatening language or profanity. Even though the sending of hate mail is not technically a violation of the law, victims may still be entitled to seek protection and assistance from law enforcement officials or civil rights organizations.
How can persons who have received hate mail protect themselves?
Those who have received hate mail can protect themselves by blocking the sender's email or social media accounts, changing their phone number or email address, and reporting the harassment to the appropriate authorities. In addition, it is critical to keep all tangible evidence and record every instance of hate mail, including the dates, hours, and contents of the letters. It is possible that victims will find it beneficial to seek the advice of a mental health professional in order to deal with the psychological implications of the harassment.
AS FEATURED ON:
AS FEATURED ON:





By: alexskopje

Hate mail can be sent through a postal service or as an attack via email.

By: tab62

Hate mail can be sent through the postal service.

By: maximino gomes

Hate mail may be accompanied by intimidating phone calls.

By: PHILETDOM

Hate mail might be sent anonymously.

By: xalanx

Hate emails might cause anger issues.

By: WavebreakMediaMicro

Harassment from coworkers can be disciplined in a number of ways, including reassignment to different departments.