What is the Solution to Juvenile Delinquency?
There is no single solution to juvenile delinquency, and the problem is complicated enough that communities and societies looking to eliminate it usually need to take several approaches at once. The problem is not one that affects just one particular society, either; delinquent youth can be found around the globe, and as such, the approach usually needs to be specific to the region and the culture. On a more universal level, some of the most common steps include establishing activities and programs for kids in the after-school hours and educating local leaders about ways to integrate young people into broader community activities. Some research also shows that a stable and supportive home life is essential to preventing delinquency, and on this theory educating parents and caregivers can be a big part of the solution. In many places engaging minority groups is also really important, and improving rehabilitation and correctional programs can be an effective way of reducing the number of repeat offenders, too.
Community Involvement
Many theories hold that a key element in solving juvenile delinquency is for community members to take an interest in the problem. Adults may be able to play a vital role by displaying positive and concerned attitudes towards youth in their communities, and by getting involved in youth activities. If business owners, corporate leaders, and school officials are all on more or less the same page when it comes to encouraging appropriate engagement between youth and the larger society, kids often stay out of trouble.
Imposing Structure
Helping youth make good use of their free time often goes hand in hand with community involvement. Young people are gaining an increasing amount of liberty in many places, and this is often highlighted as a contributing factor in delinquency problems. Instead of leaving young and impressionable minds to their own devices, it is often suggested that children should be given more structure. One way that this can be done is by enrolling students in extracurricular activities such as sports or arts training. Doing so can keep youth away from negative peers and teach them valuable characteristics such as commitment and teamwork.
One of the downsides to this is cost: not all families can afford extracurricular activities, or may not have the resources to transport their kids to and from those programs. This is another place where engaged leaders can really help things along. Community centers can be opened to kids during certain hours, for instance, or schools can subsidize certain team sports or other after-school activities with money that has either been raised specifically for that purpose or shifted around from other approved uses. This often takes a bit of time and planning, but it often gets good results.
Promoting Family Togetherness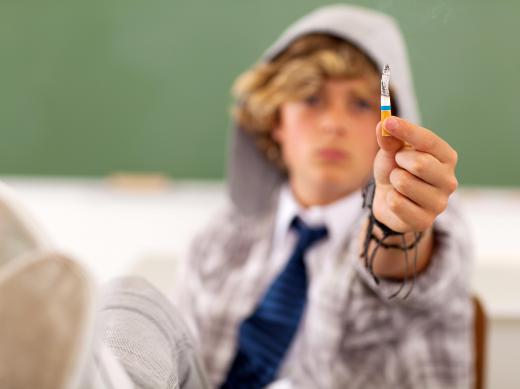 Another popular theory about solving delinquency teaches that some of the best support and structure comes from the home. Researchers on this side of the debate often argue for the improvement of parental education and support for in-tact and healthy families. Family-based arguments often get a lot of push-back, particularly since most modern research focuses on traditional family structures. It's important to note, though, that a healthy family can take many forms. Single mothers, same-sex partners, and other types of family that differ from the "traditional" model can be and in many cases are excellent sources of support. Engaging families of all types to take an active role in their children's development and overall engagement can be a very effective tool against delinquency.
Engaging Minority Groups
Looking at the demographics of the offenders can sometimes be instructive when it comes to actually getting to the root of the issue, too. In many places, delinquency rates are the highest among minority youth. There are several theories as to why this may be: some suggest it is because the majority of society has generally negative or stereotypical attitudes toward these groups that the youth can detect, while others say that it is because minorities are not as widely exposed to positive role models that they can relate to. Trying to understand the causes can help societies reengage all kids, and feelings of equality often deter delinquency — at least to an extent.
One of the most immediate steps groups or communities can take in this respect is to encourage adults from different ethnic and societal backgrounds to interact with young people. Public education can also be balanced to show the relevance and contributions of minority cultures, which can sometimes help kids from these backgrounds feel valued. The causes of delinquency are almost always much more complex than simple feelings of inclusion, but starting here can set the right tone and can reduce incidences of rebellion and acting out, even if they don't eliminate them completely.
Improving Rehabilitation Options
Another important part of the puzzle concerns rehabilitation and punishment — basically what's happening to kinds once they've been labeled delinquents. A number of researchers say that many of the methods labeled as "rehabilitation" are actually punishment, and if these methods were redesigned to actually address the problems with more personalized measures, the success rate might increase. Counseling, psychological evaluations, and activity-based rehabilitation programs are often suggested as better alternatives than standard detention centers, which are often more like prisons than places for reform.
AS FEATURED ON:
AS FEATURED ON:





By: Dusan Kostic

Encouraging kids in extracurricular activities helps them learn about teamwork.

By: Lisa F. Young

Rehabilitation rather than incarceration is a popular solution to juvenile delinquency.

By: gstockstudio

Adults may be able to head off delinquency problems by becoming involved in community youth activities.

By: michaeljung

Juvenile delinquency is the broad-based term given to juveniles who commit crimes.

By: micromonkey

Children who spend more time with their parents in a family setting are less likely to be delinquent.

By: NinaMalyna

Juveniles facing issues including poverty are more likely to be delinquent.

By: Hogan Imaging

Juvenile delinquency is more common with children raised in a single parent home than one with two-parents.

By: Steve Lovegrove

Shoplifting is a form of juvenile delinquency.

By: Monkey Business

Giving children healthy activity alternatives can often reduce delinquency in a neighborhood.

By: inesbazdar

Children who spend more time with their parents are less likely to have delinquent behavior.

By: Kablonk Micro

Some experts believe holding family dinners at least five nights a week can help to prevent juvenile delinquency.