How do the Police Protect Crime Evidence?
Protecting crime evidence is absolutely essential to making sure justice is served and offenders are apprehended. Unfortunately, it can be difficult to protect crime evidence due to a number of factors, including human interference, carelessness, and degradation of the evidence over time. Police officers who are making an effort to protect a scene must typically follow very strict police guidelines concerning evidence, but the general idea behind protecting evidence involves minimizing contamination and protecting the evidence from human and natural alterations. While the police usually make the best effort possible to protect evidence, current science cannot predict all forms of evidence that will ever exist, and some aspects of evidence may be inadvertently destroyed.
One of the most important ways in which the police protect crime evidence is minimizing the number of people who interact with the evidence. This usually involves blocking off a crime scene and allowing only authorized and trained members of the investigation unit to access the scene. Crime evidence like footprints can be easily destroyed by careless bystanders, or it can be deliberately destroyed by criminals. Keeping people out of the scene is therefore essential in protecting the evidence.
In addition to physical evidence, the accounts of witnesses must be protected from suggestion as well. Police protect this type of evidence by collecting statements as quickly as possible and preventing witnesses from discussing the incident. Given that accounts can be interpreted differently, making sure that the witness statements are taken verbatim is essential.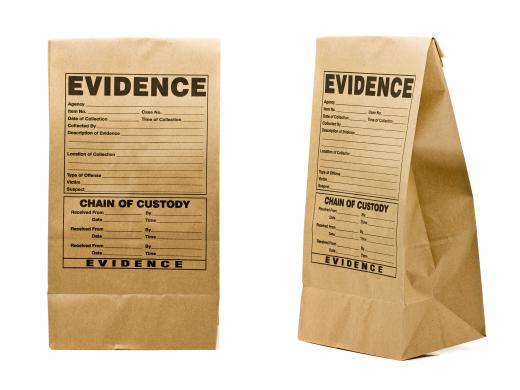 Deterioration over time can also be a major problem when trying to protect crime evidence. All evidence must be stored appropriately to ensure that it can be looked at in the future should questions arise about the case. Storage and proper labeling of evidence is also important, as lost evidence cannot be used.
Protecting crime evidence is important, but human life is always considered the primary concern when the police are called to a crime scene. If there is a person in danger or an injury has occurred, the police must first tend to that person even if this involves destroying evidence. When evidence is in the body of a victim, such as in a rape case, it can be more difficult to protect the crime evidence. Even so, the wishes and well-being of the injured person must always be respected.
One problem with protecting crime evidence is that not all forms of evidence have yet been discovered. Before DNA evidence was common, for example, many DNA samples that could have solved cases were destroyed. Police must make their best efforts to protect the evidence they know about and keep physical evidence unharmed. That way, as science advances even more evidence can be found, and old, formerly cold cases can be solved.
AS FEATURED ON:
AS FEATURED ON:





By: Loren Rodgers

Yellow police tape is used to secure a crime scene and protect evidence.

By: Shawn Hempel

Guidelines for collecting and handling evidence help protect it during an investigation.

By: corepics

A crime scene is protected by allowing only authorized investigators on the scene.

By: LukaTDB

The best way to protect evidence is to limit the number of people who interact with the evidence.