What Happens With a Hung Jury?
There are usually two things that can happen when there is a hung jury: the judge can ask the jury to reconsider and hope that more time might lead some jurors to change their minds, or the judge can declare a mistrial. A mistrial is usually the more serious and time-consuming outcome. It usually requires starting the entire trial over again with a new set of jurors. The rules tend to be a little bit different depending on the jurisdiction and the type of court, but hung juries almost always mean trouble for the lawyers, the parties, and the courts involved. Participants typically do all they can to avoid this outcome.
Jury Basics
Many court systems around the world use juries to help reach a conclusion in certain cases. The specifics of the selection and ordering process are different from place to place, but in most instances a jury will consist of anywhere from 9 to 13 people selected from the community. Some court rules require complete unanimity, whereas others want only a majority vote on decisions of guilt, innocence, and punishment specifics. When these requirements can't be met, the jury is usually said to be "hung." In practical terms this means that the jury wasn't able to make a decision, which usually means that the court isn't able to enter a verdict or final decision.
The main role for a jury in any setting is to render the verdict, often expressed in terms of guilt, innocence, or liability. Deciding on the punishment or consequences is sometimes but not always also included. It's typical for the jury to listen to the entire proceedings, hear all the testimony, and see all the evidence that is submitted while the case is being tried.
After the closing arguments, the jury begins a process called deliberation. While they are in deliberation, jurors are alone with one another in a private room discussing the disposition of the case. They have access to transcripts of the testimony and any evidence is usually also available for their review.
What Disagreement Looks Like
Under ideal circumstances, jurors should be able to take as much time as they need for deliberation, within the bounds of practicality of course. The key objective is for them to be united on a verdict. This isn't always possible, though. In some countries, the jury needs to be in unanimous agreement to render a verdict, particularly in criminal cases. This is usually the case in the United States. Elsewhere, though, particularly in Canada and the United Kingdom, a majority agreement is enough. A situation where 10 out of 12 jurors agree on a particular charge may be sufficient in some places, for instance, whereas in others even a slight imbalance like this would be considered a hung jury.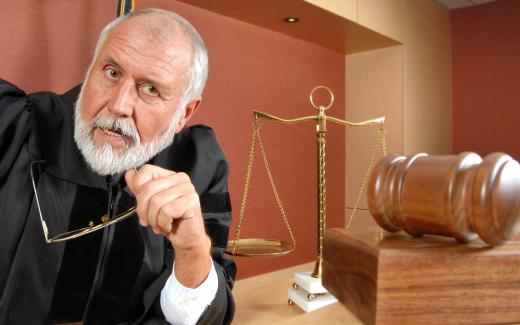 There are a number of reasons why juries become hung, and the problem often involves differences of opinion, different interpretation of evidence, and different impressions of the parties and their lawyers. In some cases it may also be the result of personality conflicts or wildly divergent backgrounds and approaches to justice.
Preventative Measures
A hung jury is usually considered bad for everyone involved, and as a result there are a couple of things lawyers and judges can do to prevent them. One of the most important parts of this process is the actual jury selection, which usually happens well before the case is tried. Lawyers for both parties usually have the opportunity to interview and select the members of their jury from a pool of qualified people. Lawyers for both sides tend to work together in the selection process to choose a jury that will be balanced and objective.
If it looks like there may be an impasse when it comes time for a decision, the judge might take some time to discuss the situation with the jurors and ask those who are in the minority to reconsider their position. In the U.S. this is frequently called an "Allen charge." In the course of this charge the judge typically reminds the jury of the importance of reaching a conclusion in the trial and how much time and effort has already been spent. Whether or not a judge has the ability to influence the jury this way often depends on the local rules as well as the sort of matter being tried.
Starting Over
When there really is no solution, the court often has no option but to declare a "mistrial" and start over. Mistrials are fairly serious and usually mean that some procedural or technical error made the case impossible to resolve, and the parties must start over again — often at great expense of both time and resources.
What Is a Hung Jury?
In all criminal trials and (in most states) civil trials, the jury verdict is expected to be unanimous. When it isn't — even if only one juror disagrees — it is then known as a hung jury. When this happens, jurors have deliberated, meaning they have discussed the case, and examined all trial transcripts and evidence, sometimes for days or weeks, but are unable to reach a verdict.
About one-third of states allow civil cases to be decided by a majority vote of the jurors. However, under Rule 31(a) of the Federal Rules of Criminal Procedure, the jurors must all agree on the defendant's guilt or innocence in a criminal trial. In the early days of the United States' existence as a nation, the framers and founders had clear memories of the abuses that took place in English courts of the time. Therefore, they made the law in such a way as to put the burden of proof on the prosecution. The defendant is presumed innocent, and the prosecution must prove guilt beyond a reasonable doubt. Requiring a unanimous verdict is a way to ensure that an innocent person is not wrongly convicted (although this does happen on occasion).
Until recently, only two states —Louisiana and Oregon — allowed convictions on a majority vote of the jury. However, in April 2020, the U.S. Supreme Court ruled that all decisions in felony cases must be unanimous. The law was made retroactive, meaning many criminal convictions in those states may get thrown out.
What Does a Hung Jury Mean?
Generally, this happens when one side (the prosecution or, in a civil trial, plaintiff's counsel) or the other (the defense) has failed to present a conclusive argument. As a result, the jurors are unable to render a verdict. In legal parlance, it is generally said in such situations that the jury is deadlocked.
A hung jury can result from any number of causes. Usually, there is some disagreement over whether the prosecution has proven its case beyond reasonable doubt (or in the case of a civil trial, based on a preponderance of the evidence). In other situations, there may be differing interpretations of the evidence. Believe it or not, even conflicting personalities can come into the equation, or simply a juror's personal like or dislike of the defendant or their counsel.
In some high-profile trials, the jurors have been sequestered. This happens when the case is controversial, and there is concern that the defendant may not get a fair and impartial trial. The jurors are put up in a hotel, where they are not allowed to discuss the case with the media, their friends and families or anyone else. They are forbidden to access television (especially the news), newspapers and the web (particularly social media). As you might imagine, jurors can get impatient under those conditions.
Watch the film Twelve Angry Men to get an idea of what can happen when a jury can't reach a verdict.
What Happens After a Hung Jury?
A hung jury can be a major problem and the least-desirable outcome in a court proceeding. Often, the best way to deal with a hung jury is during the selection process, before a jury has even been empaneled. Before the opening of the trial, both the prosecution and the defense have the opportunity to interview prospective jurors. If you have ever been called for jury duty, you know how this procedure works. Ideally, both attorneys can come to an agreement on the makeup of the jury so that it represents a balanced cross-section of the community and is likely to be fair and impartial. As you might imagine, this can be difficult in high-profile cases that have already been tried in the "court of public opinion." Sometimes, such trials will be moved to a different venue or jurisdiction where the case is less well-known.
When juries are unable to reach a verdict, there are a number of things judges can do. A judge may use what is known as an "Allen Charge," which is nothing more than an admonishment to jurors in the minority to encourage them to reconsider their decisions. If this fails to produce a unanimous verdict, then the judge declares a mistrial. When this happens, the entire proceeding must start again from scratch, meaning that a new jury will have to be empaneled and the case retried. A new trial may also be called for if there has been a procedural error.
AS FEATURED ON:
AS FEATURED ON:





By: surpasspro

When a hung jury occurs during a trial, a case may be tried again with a new jury.

By: pressmaster

A hung jury occurs when the jurors in a trial are unable to agree on a verdict after hearing the facts of the case.

By: Empath

A judge may give a hung jury more time to discuss the case in the hope that some jurors will change their minds leading to a verdict.

By: Junial Enterprises

With a hung jury, a judge may have to declare a mistrial.

By: shotsstudio

Pieces of evidence may be thrown out in the event of a hung jury.