A civil jury is a group of citizens who, along with a judge, hear a matter of civil law. At the conclusion of the trial, the jurors decide whether or not the case has merit, and if they believe that the person who brought suit is in the right, they can award damages. Civil juries can contain between six and 12 people, depending on the case and the jurisdiction.
Civil juries are primarily seen in the United States and Canada. When a civil case is filed in court and a jury trial is scheduled, a group of prospective jurors is brought in for jury selection. The jurors are screened in a process known as voir dire to see if there are any reasons they might not be fit for service. Typically, people who know the plaintiff or defendant will be dismissed, as will people who know a lot about the case or people who have been involved in similar cases in the past.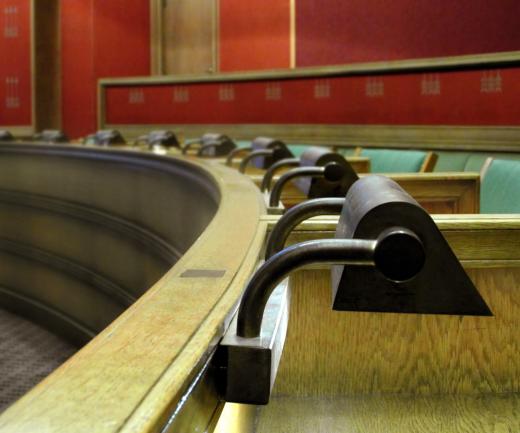 Once a group of jurors is selected, they are sworn to jury service and said to be "impaneled." The facts of the case are presented in court and at the close of the case, the judge provides the civil jury with instructions. The instructions explain the standards that must be used when determining the verdict in the case and include guidelines for damages. The civil jury is sequestered in a private area where they elect a foreperson to facilitate their deliberations, and they discuss the case as presented to reach a verdict.
During the case, members of a civil jury are not allowed to discuss the case with anyone. Discussing the case with each other might be prejudicial, as it does not allow jurors to form their own opinions. Outsiders could provide information excluded from court for evidentiary reasons that might change the way a juror views the case. If members of the civil jury are approached by people who want to discuss the case, they are obliged to report it to the bailiff of the court, who will discuss the matter with the judge.
Trial by jury is a guaranteed right in some legal systems. People involved in a civil case can agree to have a case heard just by a judge, with no jury present. If one party objects, however, a full civil jury must be impaneled to hear the case. Trying a case before a jury of peers is intended to give people a fair chance in court.
AS FEATURED ON:
AS FEATURED ON:





By: mino21

A civil jury is a group of peers that helps settle legal disputes.

By: Empath

The number of jurors in a civil trial can vary by state.

By: Geo Martinez

Individuals involved in a civil case can agree to have their case heard only by a judge, with no jury present.