What is a Bank Affidavit?
A bank affidavit is a legal document testifying to an aspect of a customer's relationship with a bank. These documents are used in a number of different settings ranging from pursuing fraud cases to providing supporting documentation for an immigration application. The affidavit must be filled out and signed by an authorized representative of the financial institution and should be witnessed to verify its accuracy and completeness.
A common reason to need a bank affidavit is a situation where an account was used fraudulently. The bank can prepare a statement documenting the fraudulent transactions and indicating that any financial damages related to the fraud are not the responsibility of the customer in a statement of unauthorized debt. This documentation can be used in court in the event the case goes to court and is also helpful in situations where businesses targeted with fraudulent activity attempt to collect damages from the victim of the fraud.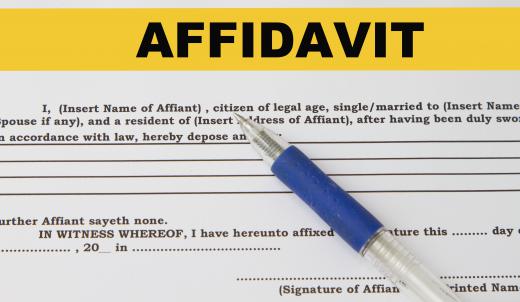 People preparing immigration applications are usually asked to provide proof of financial support. This can include documents from people showing that they have the ability to support the new immigrant, along with a bank affidavit discussing the contents of a person's bank account. This document can be used to show that a person will be able to survive in a new country with savings and support from friends, family, and partners. People who cannot provide this proof may be rejected out of concerns about ending up on welfare rolls.
The bank affidavit may contain a variety of personal information and should be kept in a secure location to avoid situations where it could be misused. When paperwork of this nature is submitted to courts and government agencies, they have an obligation to store it securely and prevent unauthorized access to maintain privacy and safety.
Blank bank affidavit forms are available, where people fill in the spaces and sign as directed. In the case of immigration applications, if an embassy has a document it prefers to see people using, it is advisable to ask the bank to fill out that form to avoid problems. Attorneys can also draft a new bank affidavit with all the same information. Once the form is filled out, signed, and witnessed, a copy should be made and stored in a safe place in case the original is damaged or lost. Keeping duplicate copies of immigration paperwork with the receipts for that paperwork can be especially helpful.
AS FEATURED ON:
AS FEATURED ON:





By: Marzky Ragsac Jr.

Bank affidavits are completed by a representative of the financial institution to verify account information.

By: Pefkos

A bank affidavit is a legal document testifying to an aspect of a customer's relationship with a bank.