What is a Sworn Affidavit?
A sworn affidavit is a written statement made by a person who is under oath to tell the truth about the facts and information contained in the statement. Additionally, the person signing the affidavit, called the affiant, attests to his or her identity. Usually, the statement must be witnessed and signed by a person who is legally authorized to administer oaths, such as a notary public. The notary is generally required to place a notary seal on the document.
When a person signs the affidavit, he or she is promising that anything contained in the statement is accurate and true. Effectively, it is the same thing as orally presenting testimony in court. If a person lies about the information contained in the statement, he or she could be prosecuted for the crime of perjury, which is lying under oath. Someone who is convicted of perjury may be ordered to pay significant fines or may even be sentenced to time in jail.
A sworn affidavit is most commonly used in a court case for the purpose of providing evidence about facts pertaining to the case. It may also be used to validate documentary evidence, such as an official record. In some circumstances, an affidavit is entered into evidence at a court trial in place of the affiant's sworn testimony. This is typically done when the person is unavailable to come to court for some reason or when needed in order to save time. When an attorney files a motion or pleading on behalf of his or her client, the attorney may also submit affidavits for the purpose of establishing facts and lending credibility to the legal arguments made in the filing.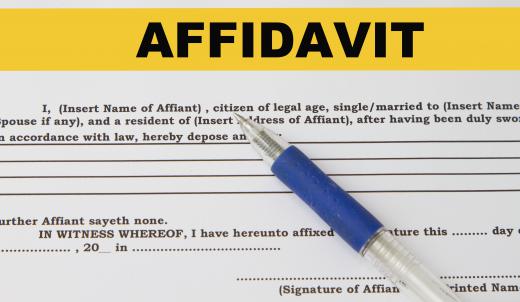 A person may sign an affidavit for events that occur outside of a court. For instance, the seller of a piece of real estate is generally required to submit an affidavit of title to the prospective homebuyer. The document usually states the seller's marital status and certifies that there is no defect in the title. In addition, it may indicate that the seller is currently in possession or the property.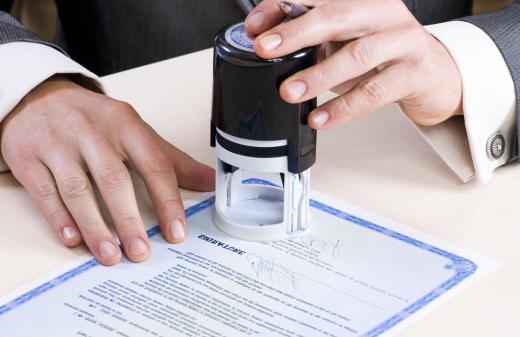 Some commercial circumstances may also require a sworn affidavit. For example, a business may use one to attest to its financial stability. When a person submits a credit application to a bank or other lending institution, he or she is often required to sign a document confirming his or her financial status. In the context of probate, affidavits may also be used to prove the validity of a deceased person's will.
AS FEATURED ON:
AS FEATURED ON:





By: qingwa

When a person makes a sworn affidavit, he or she makes a written statement under oath.

By: Marzky Ragsac Jr.

An affidavit is a written statement that was given under oath.

By: Iurii Sokolov

A notary public generally signs and stamps a sworn affidavit.

By: Sinisa Botas

The sworn affidavit attests that the person giving testimony is telling the truth.