A court hearing is a gathering within a courtroom that is called for the purpose of conducting some type of legal procedure. There are many types of hearings, some of them involved with civil court issues while others focus on criminal court situations. While the structure and focus of a hearing will vary from on location to another, there are a few essential elements that apply in just about every court of law and thus govern the flow of a court meeting.
In many countries, the use of a preliminary court hearing known as an arraignment takes place. Often, the structure of this type of hearing allows legal counsel to present information to a judge regarding a charge leveled at a defendant. The judge then determines if there is sufficient evidence to hold a defendant over for trial. It is also not unusual in some courts of jurisdiction for the defendant to enter a plea of guilty or not guilty at this time. If appropriate, the judge may also set a bail amount for the defendant.
Just about every national legal system provides procedures and requirements that must be used in a court hearing known as a trial. With the trial, prosecution counsel provides evidence and testimony from witnesses in an attempt to convince a judge or jury of the guilt of the defendant. During the course of the trial, legal counsel for the defendant will be given the chance to present a case for the innocence of the defending party. The general expectation is that once prosecution and defending counsel have presented their positions, a decision can be rendered and the issue resolved. If required by the laws of the land, another hearing known as a sentencing is held at some point after the trial takes place.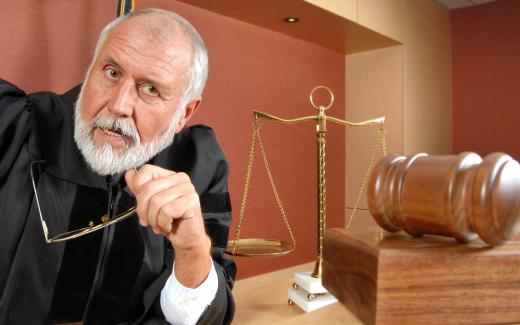 Customs vary from one court of law to another. For example, civil courts may require procedures that are slightly different from those followed within a criminal court. Military courts may include elements that are different from civilian court hearings. Legal policies and procedures will vary from one nation to another, although the general structure of hearings between two given countries may be very similar.
In just about all hearings, a common factor is establishing a specific date, time, and location for the hearing to take place. Depending on the particulars of the case, a hearing may be scheduled very quickly or set for a later date, allowing both prosecutors and defending counsel time to gather facts for presentation at a trial.
Because the scope and type of hearings within a given court of jurisdiction will vary, it is important to consult laws governing the function of courts within that jurisdiction. Attorneys who are authorized to practice law within the jurisdiction can also advise clients of all types of court hearings that are likely to be relevant to a given situation.
Frequently Asked Questions
What is the purpose of a court hearing?
To get a legally enforceable judgement, a court proceeding, which is simply a formal hearing in front of a judge or magistrate, is required. Throughout this procedure, each side will argue their case and provide any relevant evidence in an attempt to persuade the judge to render a judgement. Also, it can be utilized to determine whether a person is guilty of a crime, which is a significant advantage. Hearings are held in court to address legal matters and guarantee that the law is followed.    
Who is usually present at court hearings?  
The judge or magistrate who is in charge of a hearing is known as the presiding officer. There could also be bailiffs and court reporters present. Any witnesses may be questioned about their remarks, and the court may also examine the petitioner and the defendant.
How long does a court hearing typically last?  
The length of the trial will be determined by the complexity of the case. A simple instance may simply require a few minutes, whereas a complex instance may require hours or even days. Significantly, the hearing will continue until all evidence has been presented and a decision has been made by the judge or magistrate.
What happens if I fail to appear at a court hearing?
You may be found in contempt of court and fined for disregarding the court's orders if you fail to appear in court. Depending on the severity of the offense, the penalty could range from a fine to jail.
Are judicial proceedings accessible to the public?
Court proceedings are typically open to the public. Yet, certain cases may be closed if they involve secret material or individuals who wish seclusion. If you intend to attend a court hearing, you should contact the court in advance to confirm whether it is open to the public.
AS FEATURED ON:
AS FEATURED ON:





By: SVLuma

Hearings are held in court houses.

By: Junial Enterprises

A court hearing allows legal counsel to present information to a judge regarding a charge leveled at a defendant.

By: aerogondo

In most hearings, a common factor is establishing a specific date, time and location for the hearing to take place.