What is a Name Affidavit?
A name affidavit is a written declaration made under oath by a person who wants to establish an alias as a legal identity. This type of affidavit is used to provide assurance that the person signing the document may be known by another name but his identity is certain. False statements made by affidavit can be punished by law as if a person lied on the witness stand.
Affidavits are legal tools used to allow a party or witness to record facts into evidence without necessarily having to go into court and take the witness stand. A person who has direct knowledge of relevant facts commits those facts to writing. The document is then signed, typically under oath and in the presence of an officer of the court, such as a notary public. An affidavit signed under oath has the same force and effect as statements made by a witness in court. Consequently, the person signing can be charged with perjury, just like any witness for making false statements.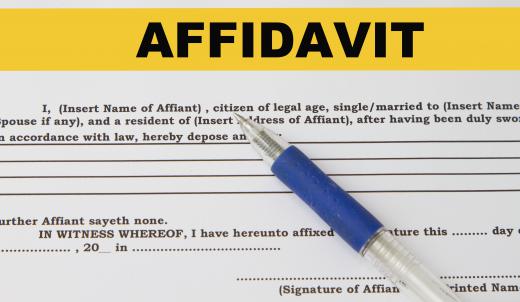 Although a name affidavit can be prepared as an auxiliary document to a court case, it can also be used in ordinary business matters to provide evidence that a party to the transaction plans to rely on. In this case, the affidavit is only presented in court if there is a dispute involving the transaction. The affidavit would be used to demonstrate the party that signed the document swore knowledge of the stated facts or that certain facts were true. A court would typically prohibit the signer from claiming different facts during the trial.
A name affidavit is typically used to establish facts in a business transaction. Many people have reason to use a pseudonym or an alias instead of their legal given name. Some people become known by a nickname. Others use a pen name or stage name for work purposes. Still others assume a new version of their name once married, and inconsistent versions of the person's name persist in the public domain.
In order to assure a party to a business transaction that a person is, in fact, the same person that is referred to under a different name, a name affidavit is used. The person with multiple names executes a written declaration in the first person that states his legal name and that he is the person who is also known by the alias at issue. This affidavit is signed under oath and before an officer of the court. Once signed, the other party to the transactions can rely on the representations made regarding the person's identity to complete the transaction.
AS FEATURED ON:
AS FEATURED ON:





By: Marzky Ragsac Jr.

Name affidavits are filed to create an alias as a legal identity.

By: Hemeroskopion

Name affidavits must generally be signed under oath in the presence of a court officer.

By: TAGSTOCK2

False statements on an affidavit are akin to lying on the witness stand.