What Is a Utility Easement?
A utility easement is an easement which gives a utility the right to use and access a specific area of a property. The area covered by the easement is usually clearly defined in the text of the easement, and the easement is attached to the property deed so that it will persist even when the property is transferred or sold. People who are researching the purchase of new property should definitely take the time to have the title researched to learn more about any outstanding easements and other things which may restrict the use and enjoyment of the property.
Utilities can request an easement for any number of reasons. A classic example of a utility easement is an easement which allows the power company to run electrical lines along a property, and to install utility poles if the property is long enough that the lines cannot pass over the property without support. The utility has the right to utilize a strip of land for the lines, and to enter the land to access the lines for maintenance and repair, which can include tree trimming, replacing rotted utility poles, and so forth.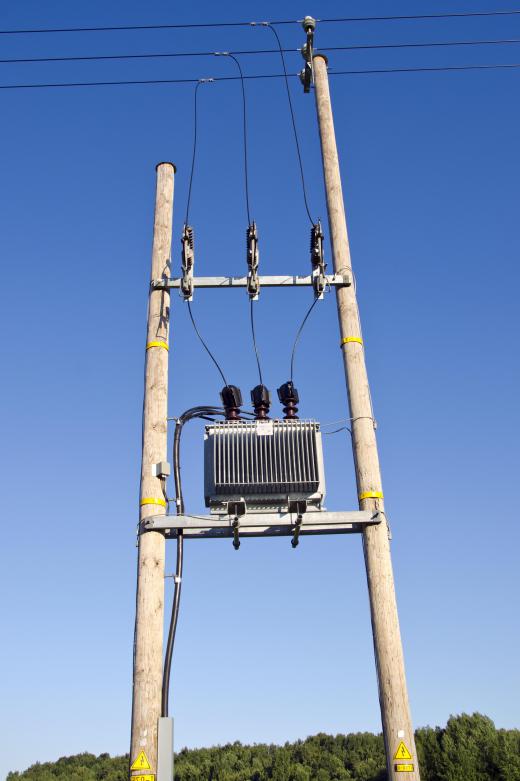 Other utilities such as water and sewer companies, gas companies, and phone companies may request utility easements. For the utility, crossing land is often easier and cheaper than going around it, and if an easement deal can be worked out, it will save the utility money in the future. In other cases, a utility needs to cross private property to bring services to someone else, as for example when a lot is split in two and the back house needs access to water, power, gas, and so forth. Without an easement, the utility would not be able to guarantee provision of services.
When property is split or lot lines are readjusted, utilities may take an interest because the change may require a utility easement to address concerns about accessibility to utilities. Likewise, when land is being newly developed, easements may be put in place to accommodate the need for roads, utilities, drainage, and so forth.
Having an easement gives the utility the right to use the land, but the utility does not own it. However, the property owner may encounter certain restrictions on land use in an area covered by a utility easement. For example, if a power company has a utility easement, the property owner cannot plant tall trees in the area of the easement, because they could interfere with the power lines. Likewise, a swimming pool could not be dug out where there is a buried gas line.
How Wide Is a Utility Easement?
A utility easement's width is a unique characteristic of each separate easement. The width of the sewage board's easement on your neighbor's property might be a completely different width and shape than the easement on your property.
The current shape and size of a utility easement are not necessarily written in stone. The U.S. Supreme Court has ruled in previous cases that easements can be edited by the owner as long as the subservient entity approves the edit and agrees the continued business of the utility will go unhindered.
If you purchase some land and discover that a utility company is accessing a part of your property that interferes with your operations unnecessarily, then you have the right to reconstruct an easement map that changes the area, shape and size of the easement. The newly mapped easement needs to be approved by the utility and entered into the record for all future property deeds. A real estate attorney can assist with this sort of change.
How Close Can You Build to a Utility Easement?
Not only can you build near an easement, but you can build right on top of an easement. It isn't exactly a smart idea, however. If you build a fence, for example, and part of the fence runs through an access easement that you didn't know about, then the entity with legal use of the easement can legally have your fence removed from that spot.
When you purchase a new home or a plot of land, the title should have the current easements documented with specificity. Older easements might not have as accurate of a description anymore. Always ask the real estate agents during the property closing where the easements are located if you aren't already aware. This ensures that you don't build a fence across an active easement.
Some homeowners who are aware of easements on their property get creative about how they build on top of them. If there's an underground easement for a gas pipe that runs under a homeowner's backyard, for example, opting for an above-ground pool is a good compromise. In the event of the utility company needing access to the pipe, the pool can more easily be moved than a below-ground pool.
Can I Refuse a Utility Easement?
Not only utility companies but nearby property owners or businesses with interests in the area may ask you for an easement to get on or through your property for some type of reason. Sometimes there is money involved to sweeten the deal, but not always. As a property owner, you are not obligated to agree to the easement.
In the case of a utility concern, if there are other properties nearby that could grant the same access, they may agree to the utility easement after you don't. If the utility further pushes the case, citing the necessity to get on your particular property for a particular reason, you may need a real estate lawyer to defend your position. The state could get involved on the utility's behalf, but then eminent domain laws might come into play.
In some cases, you may be more than happy to grant an easement. For example, if you own a deep lot with no road access in the rear and you build a home on that rear section, you probably want to give an access easement for a driveway so the newly built house has street access. That new easement will be recorded on your property title, and if you ever sell your home, the new owner will adopt the access easement.
Frequently Asked Questions
What exactly is a utility easement?
A utility easement is a legal agreement between a property owner and a utility company that gives the utility company the right to use a designated area of the property for the purpose of installing, maintaining, or accessing utility lines, such as gas, water, electricity, or telecommunications lines. This right is granted in exchange for the property owner granting the utility company access to that area of the property.
Within the context of a utility easement, what rights and duties do property owners have?
The owners of properties that are subject to a utility easement are typically required to grant the utility company access to the designated area, maintain any landscaping or structures that are located within the easement, and refrain from engaging in any activities that could potentially disrupt the operation of the utility lines. Nonetheless, property owners continue to own and have control over the land, and they are free to put it to other uses so long as those uses do not disrupt the operation of the utility lines.
How do easements for utility companies get established?
An agreement between a property owner and the utility provider is often required to create a utility easement. This agreement may be reached as a result of negotiation between the parties or may be a prerequisite to receiving utility services. A court order or the use of eminent domain are two more ways to establish an easement.
Is it possible for a property owner to modify or get rid of an existing utility easement?
Without the consent of the utility company, property owners are typically prohibited from removing or modifying utility easements located on their land. It is possible that modifying or eliminating the easement will interfere with the utility lines and cause disruptions to the services provided to other properties. On the other hand, property owners may, in some instances, be able to negotiate a repositioning of the easement or a revision to its terms.
What are the repercussions of having an easement for utility purposes placed on a piece of property?
When a utility easement is attached to a piece of property, the owner's capacity to utilize or develop the land may be restricted, particularly inside the allotted space for the easement. Before engaging in any agreements with a utility provider, property owners should make sure that they are familiar with the rights and duties that are involved with the easement, and they should contact a real estate specialist or an attorney.
AS FEATURED ON:
AS FEATURED ON:





By: Alis Photo

Easements give utility companies the right to install poles and lines on property that they do not own.

By: evp82

Gas companies may seek a utility easement to run gas lines on private property.

By: nspooner

With a utility easement, a company may access poles and lines for routine maintenance and repairs.

By: ComZeal

A utility easement might allow a power company to install utility poles or run power lines along a property.

By: Greg Pickens

A utility easement gives lineman access to perform necessary repairs.