What is an Easement Appurtenant?
An easement allows the use of a piece of property without transferring the ownership of the property. Generally, it is a type of easement that is linked to a specific piece of property and remains with the property, even if the ownership changes hands. The easement is, in essence, part of the land and is not owned by any individual. An easement appurtenant is sometimes referred to as "running with the land."
The word appurtenant comes from the present participle of the Anglo-French word apurtenir, which means "to belong." An easement appurtenant belongs to the land. In this type of easement, there is a servient tenement and a dominant tenement. Generally, the servient tenement is the property that provides, or is burdened by, the easement. The easement benefits the dominant tenement.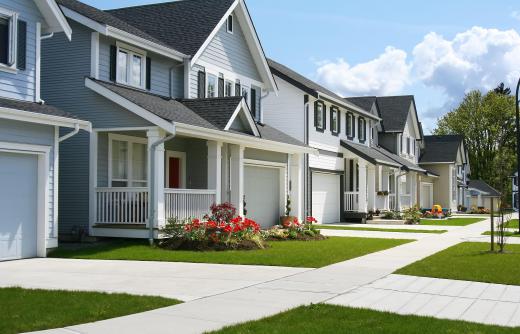 A specific type of easement appurtenant is an easement by necessity. For example, Owner A has property that is landlocked. He does not have access to a public road except over the adjoining property belonging to Owner B. Owner A has an easement over Owner B's property in order to get to his home. Even if Owner B sells the property, the easement remains active and valid.
Sometimes an easement appurtenant is instrumental in giving the public access over private land. For example, a private landowner may grant an easement over his property to a shopping mall by allowing access between the mall parking lot and the street. The easement is recorded with the title and deed of the affected properties.
In contrast, an easement in gross is between individuals. The easement does not transfer with the property. For example, Owner A allows Owner B to cross over his property to get to the public beach. When Owner B sells her adjoining property, the new owner does not have an easement to access the beach over Owner A's property. The beach access easement is not appurtenant.
Since an easement permits the use of a piece of land without giving ownership, it is crucial to clearly define the easement. Any limitations of duration or specific use should be spelled out and documented. When purchasing a property, the title search should reveal an easement appurtenant on a property. Easements in gross would not be affected since they are not linked to the property.
Easements appurtenant are also insurable while easements in gross are not. Title insurance can protect the buyer if an easement is discovered after the purchase. It is also important for a buyer to examine previous land surveys for any mention of easements. Typically, it is vital that all easements appurtenant be discovered when property is bought or sold.
AS FEATURED ON:
AS FEATURED ON:





By: Barbara Helgason

An easement may be granted to enable to owner of a land-locked property to access a public roadway.

By: Marzky Ragsac Jr.

The easement is recorded with the title and deed of the affected properties.