What is a Witness Statement?
A witness statement is best described as a summary of the evidence to be given by a particular witness. It is possible in some cases, such as in small claims court or other less formal settings, that the witness statement itself will replace actual testimony. In criminal cases, this is generally not allowed, as procedure dictates that witnesses can and should be cross-examined. One cannot question a witness that is not present. Therefore, outside of extenuating circumstances — such as death of a witness — such statements may not be admissible as evidence.
There are several different methods of preparing a witness statement. A formal statement may be referred to as an affidavit. In some cases, the witnesses may simply be asked to write out their version of events in their own words, sign the statement, date it, and most likely have it notarized. An attorney might write have a statement written up and then ask the witness to sign it. A witness statement may also come in the form of a recorded statement, with the witness testifying to its accuracy on the recording.
A witness statement can help the defense create a more thorough case. Other relevant information or evidence can be added to it, or referenced by it, such as documents that corroborate the statement. It can also help the opposing party. For discovery purposes, a process where both sides disclose what they plan to bring into evidence, a witness statement acts as a synopsis of what is expected from that witness. It gives the other party a chance to decide how to deal with that testimony in advance. It also gives the judge a preview of what is coming.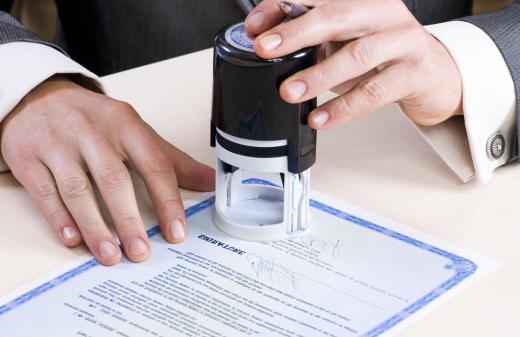 A witness statement may also be a valuable tool for refreshing the witness's memory or for impeaching inaccurate or deceptive testimony given in court. Since a witness statement should contain a statement of truth, it will be more difficult for a witness to later change his or her story. When preparing a witness statement it is helpful to follow certain guidelines.
If a jurisdiction requires a specific format, be sure to follow it exactly. Otherwise, some basic rules will be helpful, such as naming the case and adding the case number on the first page. Following this, include the witness's identifying information, including name and contact information. It is also wise to list any special knowledge the witness has of the case such as being an eyewitness, being the spouse, relative, friend, neighbor, or coworker of the plaintiff or defendant, or being the person who found an important piece of evidence.
AS FEATURED ON:
AS FEATURED ON:





By: qingwa

A witness takes an oath to tell the truth before giving testimony.

By: Iurii Sokolov

A witness statement may be notarized.

By: Junial Enterprises

Witness statements can often identify a perpetrator, and the witness can also identify the offender in court.

By: TAGSTOCK2

A witness statement can help the defense create a more thorough case.