What is Demonstrative Evidence?
Demonstrative evidence is an object, or collection of objects, used to interpret or prove the truth of an event, action, ownership, or other status in question. Such objects may typically include videotapes, diagrams, photos, models, simulations, graphs, sound recordings, medical devices, drawings, animation, maps, sketches, and x-rays. Within legal proceedings, crime scene photos, as well as crime scene videos or models, may be used as demonstrative evidence.
Prior to the use of this type of evidence, lawyers primarily depended upon testimonial evidence from witnesses, which often proves to be unreliable. Though not infallible, demonstrative evidence can often lead to the truth more accurately than witness testimony might. In addition, lawyers often prefer to use demonstrative evidence to support their case, as juries typically respond strongly to visual aids.
When used in court cases, demonstrative evidence must first be verified by a witness. The witness must testify that the item is in fact the item in question. Once this has been established, the item may be admitted into evidence as a trial exhibit. Visual aids may also be utilized during a trial without being submitted as exhibits, provided that they are being used by a witness or lawyer to explain key situations or theories in the trial. Demonstrative evidence may also be considered as hard evidence if it proves to have a strongly conclusive role in a case.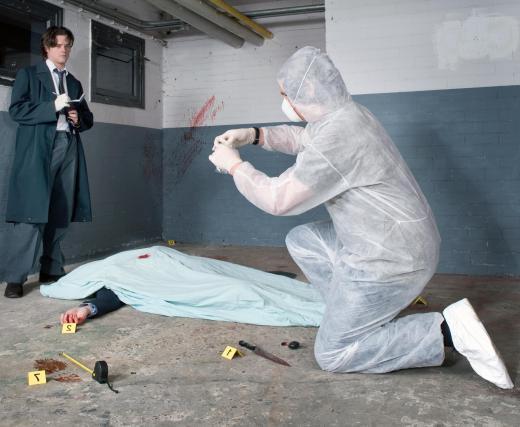 While anything that can be used to demonstrate or deduct the truth may be considered evidence, if it is not an object, it cannot be considered demonstrative. Other forms of evidence that may be used include expert or eyewitness testimonial evidence, real evidence such as a written contract or other items used within the account or case in question, such as weapons or clothing, or trace evidence such as fingerprints or gunpowder residue. Scientific evidence, which must be empirical, or well-researched, in nature as well as documented, may be used to prove or disprove a theory. Occasionally, anecdotal evidence may also be used, which, though usually at least partly truthful, may not be entirely in relation to the case in question.
Use of evidence is not limited to criminal law. Evidence is often used during debates, whether in a classroom setting, or in politics. Scientists may employ the use of such evidence in research, developing theories, and other situations. People can use demonstrative evidence during daily interactions as well, from personal discussions to news stories to account questions or discrepancies. People are also generally asked for demonstrative evidence, when they apply for housing loans or credit cards, are pulled over for speeding, or are seeking new employment.
AS FEATURED ON:
AS FEATURED ON:





By: qingwa

In court, demonstrative evidence must be verified by a witness.

By: corepics

Crime scene photos are often used as demonstrative evidence.

By: dule964

Demonstrative evidence may include gunpowder residue.

By: Junial Enterprises

Eyewitness testimony is sometimes the only demonstrative evidence in a case.