In legal terms, perjury is defined as willfully giving incomplete, misleading, or simply false testimony while under oath. It is usually used to refer to testimony given during a court trial. Some legal documents are signed "under penalty of perjury," meaning that if someone lies about anything on that form, he or she could face charges. Such cases are rarely prosecuted, but if they are and the person is convicted, he or she can face a significant fine as well as jail time.
When perjury is committed, it can represent a serious abridgment of the legal process. When someone testifies in court, the judge and jury are led to believe that the testimony is truthful and reliable. If a witness deliberately chooses to lie on the stand, twisting the testimony in one way or another, the trial is no longer fair. If it is not caught, false testimony may result in wrongful conviction or release.
In order to be considered perjury, testimony must satisfy two conditions. The first is that the lie committed must be deliberate, rather than accidental or unknowing. If the witness believes that he or she is telling the truth, giving incomplete or false testimony it is not a crime, although it may be confusing. The second condition is that the testimony must be material to the trial, having a direct impact on the outcome. If the witness lies about something which is not material, this is frowned upon, but it is not illegal.
It is also possible to correct perjury while on the stand. A witness may choose to recant false testimony before he or she steps down. This person may be charged with contempt of court or similar crimes so that he or she can be punished for wasting the time of the court, but the individual cannot be charged with perjury. Someone can also be charged with subornation of perjury, should she or he choose to incite someone else to give false testimony.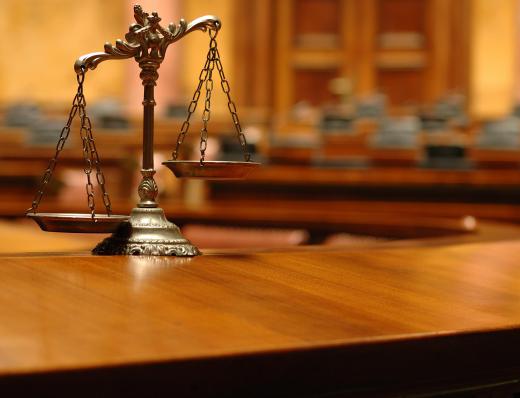 Many justice systems operate on the simple basis that people in court are bound to tell the truth about the events in question. People who do not testify truthfully put their legal systems at risk by flouting common decency and the law. Because the crime is so serious, accusations of perjury are taken very seriously by judges and legal professionals. A single case in a trial can cause the whole trial to be thrown out. American witnesses who feel that they cannot testify about something in particular may always choose to plead the Fifth Amendment, if they feel that the testimony may be self-incriminating.
AS FEATURED ON:
AS FEATURED ON:





By: qingwa

Perjury is the act of willfully giving incomplete, misleading, or false testimony while under oath.

By: Junial Enterprises

Telling any lie under oath is perjury, but only lies that affect the outcome of the case are actionable.

By: Corgarashu

The term perjury is most often used to refer to testimony given during a court trial.

By: TeX HeX

The Fifth Amendment, part of the US Bill of Rights, addresses due process, double jeopardy, self-incrimination, and eminent domain.

By: NovoPicsDE

Perjury charges can result in jail time.

By: Stephen Coburn

What someone testifies in court, the judge and jury believe that person to be truthful and reliable.