What are the Different Types of Murder Charges?
The exact definition of murder can vary from one jurisdiction to another. Generally, despite the exact wording, the term murder refers to the unlawful killing of a human being. Such a definition may sound clear and obvious, but actually it may not be because in many jurisdictions there are numerous murder charges, such as first degree murder, conspiracy to commit murder, and involuntary manslaughter. The circumstances of the killing are usually assessed to determine which charges should apply to a particular case.
In many jurisdictions there are degrees of murder. First degree murder is generally the most egregious type of this crime. According to Alabama law, four things must co-exist for a person to be convicted. The killing must be done with malice. The act must also be willful, premeditated, and deliberate.
These elements tend to be commonly found in the legislation of other jurisdictions' first degree murder statutes. One thing that may vary from place to place is that, in some instances, murder that results during the execution of another crime may be elevated to the first degree. For example, if a person is killed during a robbery, although it was not premeditated, the circumstances under which the death occurred will result in a harsher charge.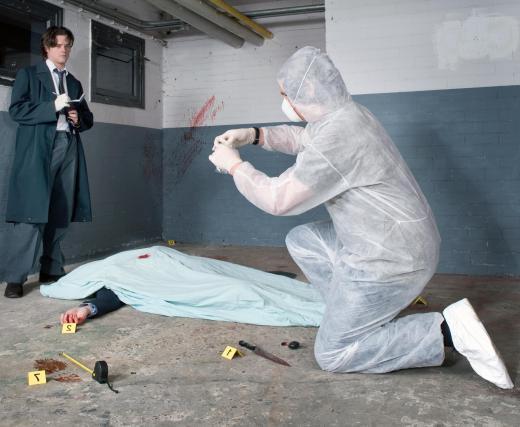 If there is a first degree murder, there must also be a second degree. These murder charges can differ from the first degree charges in a number of ways. In some jurisdictions, the elements of the two crimes are similar, but second degree murder charges result in shorter sentences and do not carry the possibility of capital punishment. Other statutes, such as those in New York, allow the charge to be used for deaths of third parties that are caused by willful acts.
Attempted murder charges result when a person is accused of trying to kill someone. The intent and some action toward realizing it are two elements that are commonly required if these cases are to be successful. For example, if Terry writes in his journal that he wants Tyrone dead, and later he shoots an arrow at Tyrone, which hits him, but does not kill him, Terry can be charged with attempted murder.
Manslaughter is often used to charge people who kill others without malice or premeditation, nonetheless, the death that occurred is deemed inexcusable. For example, a farmer may get drunk, get into his tractor, and run over a farm worker, resulting in his death. The farmer did not have ill intentions or plans to kill, however, the fact that he acted negligently could result in this type of murder charge.
Conspiracy murder charges may be used in cases when multiple people plan or act toward murdering another person. The person who actually causes the loss of life is generally charged with murder. Any others who are discovered to have helped to plan or aided the murderer can be charged with conspiracy. It is important to note that conspiracy to commit murder charges are often brought against individuals even when the victims do not die.
AS FEATURED ON:
AS FEATURED ON:





A conviction for first degree or capital murder could lead to the death penalty.

By: corepics

The definition of murder can vary from one jurisdiction to another.

By: corepics

Manslaughter refers to the killing of a person without implied malice.

By: puckillustrations

If an individual dies during the commission of a crime, it is classified as a felony murder.

By: Robert Hoetink

A manslaughter charge means that someone has been arrested and formally accused of manslaughter, but not yet found guilty.