What is a Grand Jury Subpoena?
A grand jury reviews evidence presented by a prosecutor in a criminal investigation and determines whether there is probable cause to return an indictment and go to trial. The grand jury subpoena is the tool used by the prosecutor to gather evidence to make the case. Subpoena translates as "subject to sanction," meaning that the recipient of the subpoena has to comply with the terms of the subpoena or face specific consequences.
Issued by the court, subpoenas are filled out by the prosecutor. They are delivered, or served, by a police officer or marshal to the person or entity required to appear before the grand jury. The prosecutor decides which witnesses to call and directs the grand jury investigation.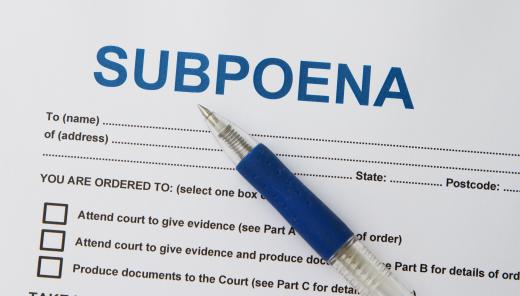 There are two kinds of grand jury subpoenas. A subpoena ad testificandum orders a person to testify before the grand jury. If the prosecutor is looking for specific evidence, he or she would seek a subpoena duces tecum. This type of subpoena requests evidence such as documents, tapes, test results, and photographs.
When served with a grand jury subpoena, there are three possible responses. Complying with the subpoena is the least complicated. If an appearance is requested, the witness comes to the jury on the date requested and submits to questioning. Evidence, if subpoenaed, is delivered in compliance with the terms of the subpoena.
An alternative response may be attempting to convince the court that it is not necessary to comply with the subpoena. The witness can claim a privilege, such as doctor-patient, that prohibits the giving of testimony before the grand jury. Attorney-client privileges can also be cited for not complying with a grand jury subpoena. The court has to be convinced to release the witness from testifying or providing evidence.
Refusing to appear before the grand jury is a third option, but a potentially costly one. When a witness refuses to appear, he or she is held in contempt. The witness can be sent to jail for the length of time that the grand jury is in session or until he or she is willing to cooperate with the grand jury, whichever occurs first.
The grand jury subpoena is a powerful tool that is used to gather physical evidence and testimony. A prosecutor has sweeping powers to call witnesses and direct the investigation. If the grand jury returns an indictment, the case goes to trial in a regular courtroom.
AS FEATURED ON:
AS FEATURED ON:





By: Marzky Ragsac Jr.

A person can be issued a subpoena to appear before a grand jury.

By: pixelrobot

A deputy U.S. Marshal often delivers criminal subpoenas.

By: Junial Enterprises

Contempt of court charges can be filed if a person does not obey a grand jury subpoena.

By: James Martin

Prosecutors use grand jury subpoenas to gather evidence to support specific cases.

By: Aleksey Dmetsov

Failure to appear in court after a summons or a subpoena may result in an arrest.

By: TAGSTOCK2

A material witness may be compelled to testify even if he or she does not wish to.

By: Photographee.eu

Testimony to a grand jury ay be prohibited under doctor-patient confidentiality.